Delicious Celery Root Apple Carrot Salad
February 9, 2020 - 1 Comments
When you are in the mood for a healthy and delightful Celery root salad, please look no further. This salad contains raw celery root (the main star of the dish), a honey crisp apple, and carrots, which gives a super boost to your immune system. Origins of this fantastic recipe come straight from Poland. I did, however, modify the method just a little to my taste but trust me on this one when I say you will fall in love with this great and healthy shredded celery salad. It's even better than the famous celeriac remoulade! It's famous for its fantastic tender texture and great earthy flavors.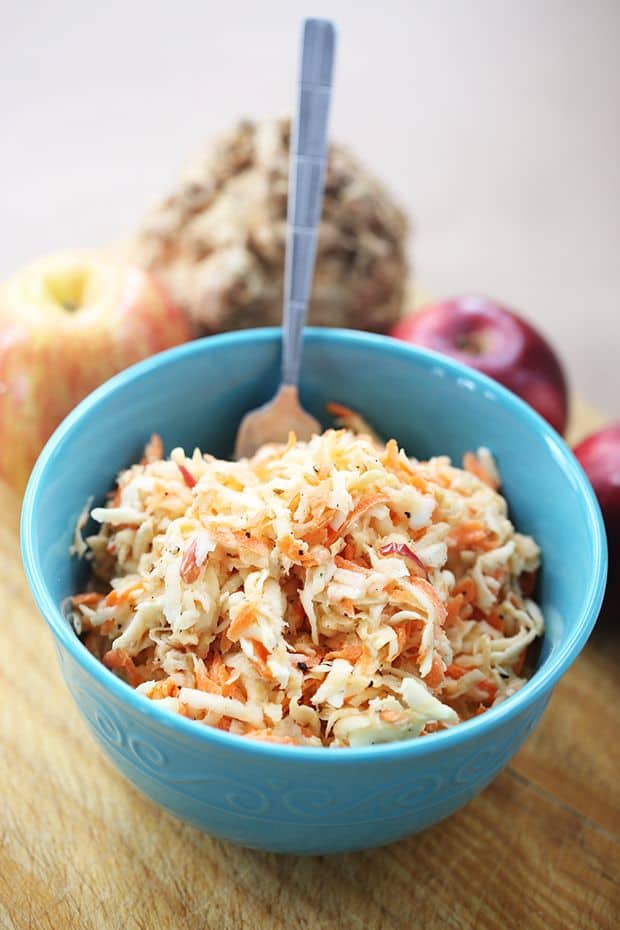 Ingredients and equipment needed;
Raw celery root (also known as celeriac)
Carrots
Honey crisp apples (You can use pretty much any other apple here as long as it is on the crispy side and has sweet flavors.)
Lemon
Mayonnaise (make your own or store-bought)
White sugar
Black pepper, freshly ground
Vegeta seasoning or salt
Equipment;
Sharp chef knife as a celery root is hard to cut through.
Box grater
Vegetable peeler
How to prepare celery root carrot salad?
This salad is by far one of the best celery root salad recipes I have ever had or made. There is no need to marinade any of the veggies.
Step 1:
Peel the skin of the celery. Wash it thoroughly.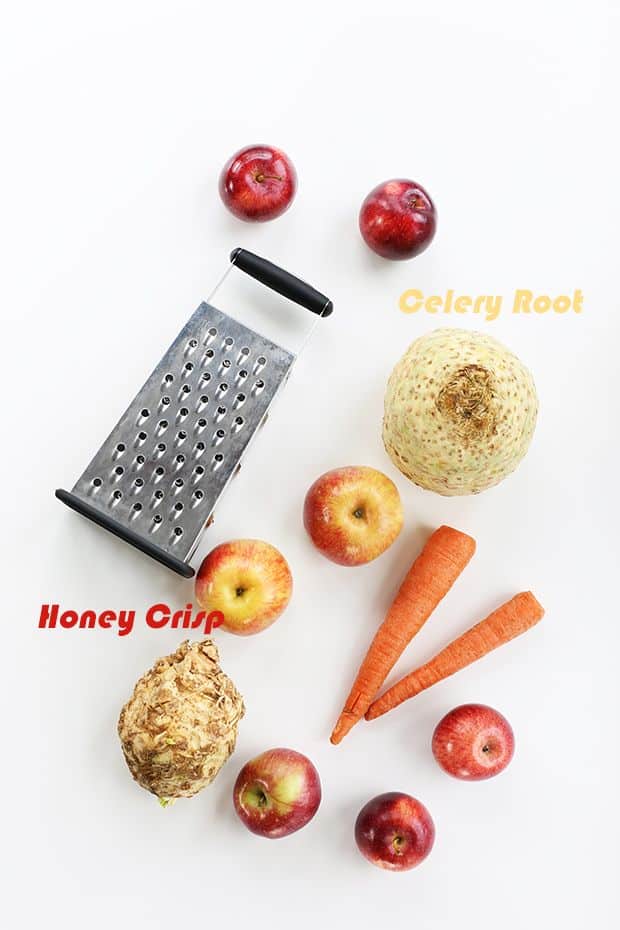 Step 2:
Shred the celery on the box grater. User large-hole side.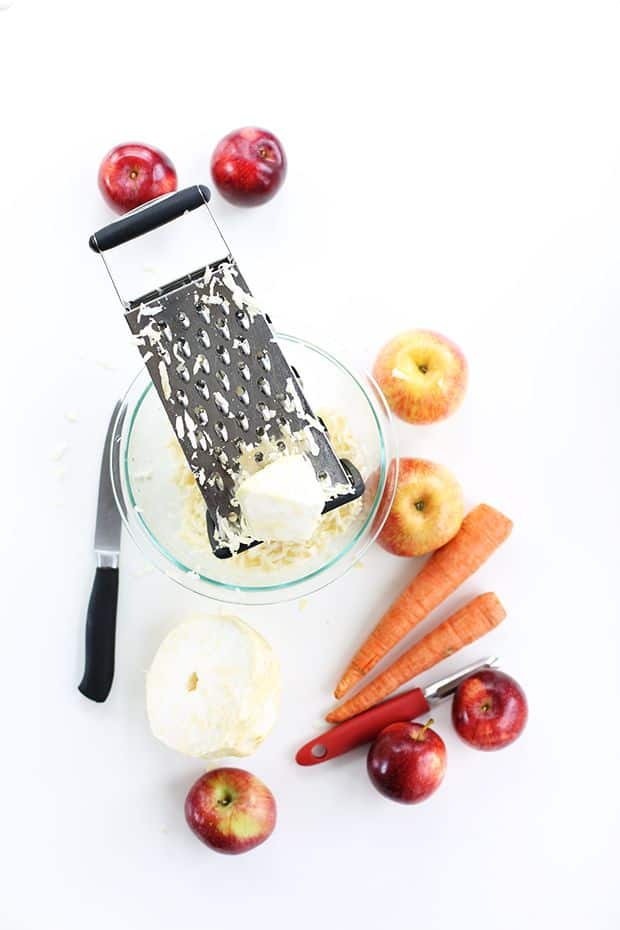 Step 3:
Peel carrots and shred them along with the apple. Combine with previously shredded celery.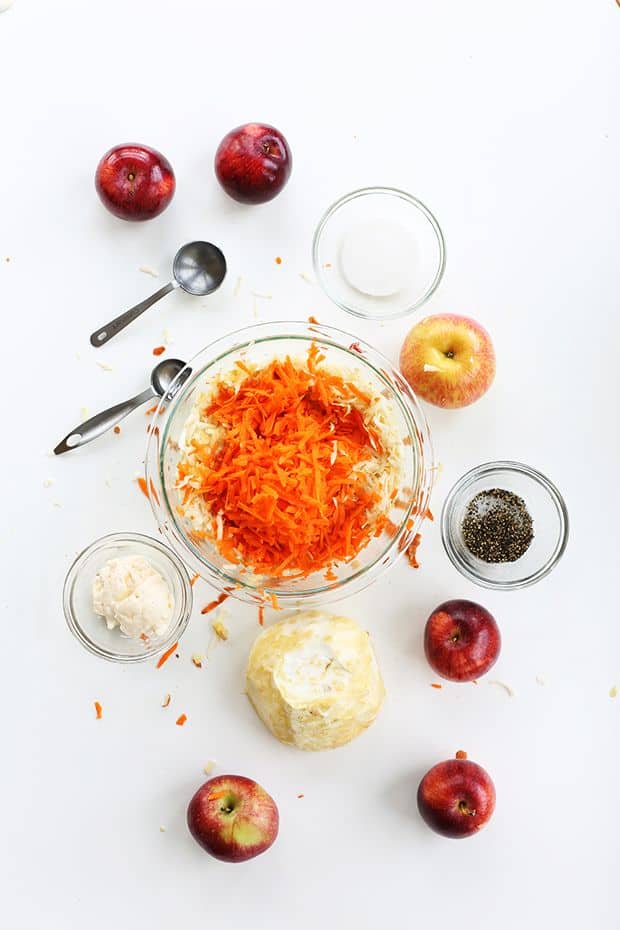 Step 4:
Add mayonnaise, black pepper, Vegeta seasoning (or salt), squeeze lemon juice in. Mix all together and enjoy!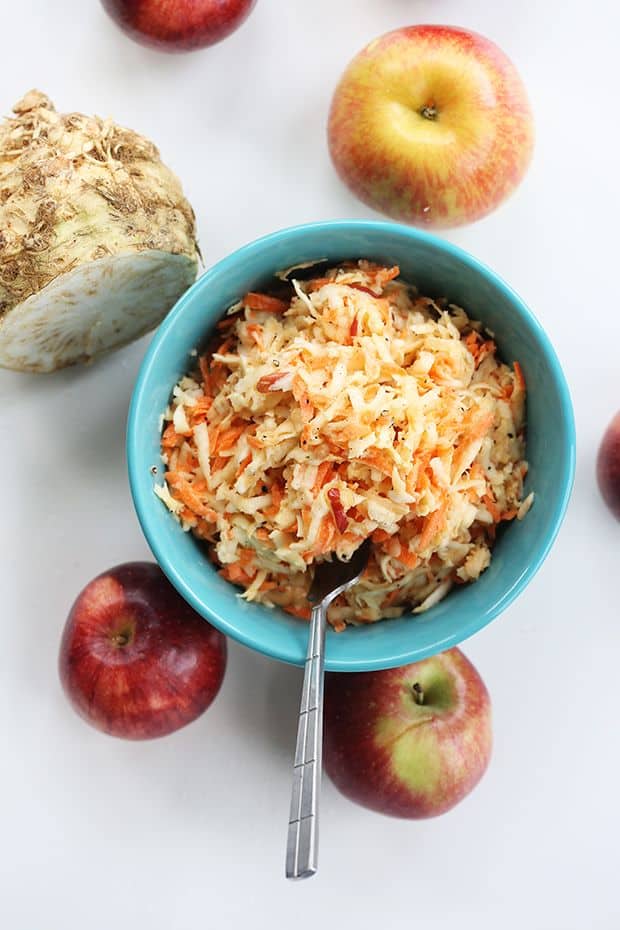 This tasty celery root slaw goes well with rice, mashed potatoes, or you can even try it on a sandwich, and also tacos. The opportunities are endless here.
What does celeriac taste like?
A little bit of a nutty flavor with a tiny hint of celery tones. Perfect for mixing with other root vegetables like carrots, for instance, or parsnips, turnips, or even jicama.
Is celery root good for you?
This interesting looking root vegetable comes in all kinds of different shapes, sizes and comes with its great health benefits such as fiber, magnesium, vitamin B6, C and many more. Knob celery is often served as a substitute for potatoes as it is low in carbohydrates (only 9.2g per 100g).
How to store celery root?
This ugly duckling likes to be kept in a cool, dark spot. If you are storing it in the fridge, do not peel the skin and it will last anywhere between 2 to 3 weeks. If you own a home and have a cooler in your basement, you could try building yourself a small root cellar and keep all root veggies there. They will last way longer compared to being stored in your refrigerator.
If you find yourself with one at the end of its shelf life don't throw it away. You can still use it to make vegetable stock. I hate to waste food.
Is this recipe family-friendly?
Yes, it most certainly is. My wife loves it and my young daughter, Miesha loves it too! You can serve this at any occasion, it is easy to make and the ingredients are easy to get. Any major grocery store sells these in the produce section. However, it can be a bit pricey, therefore I would suggest hitting up your local farmers markets where they can be found much cheaper.
Last but not least, please be sure to check out our other delicious salad recipes.
If you make this recipe, please snap a picture and hashtag it #FoodFlavorz – We would love to see your food photos on Facebook, Instagram or Twitter!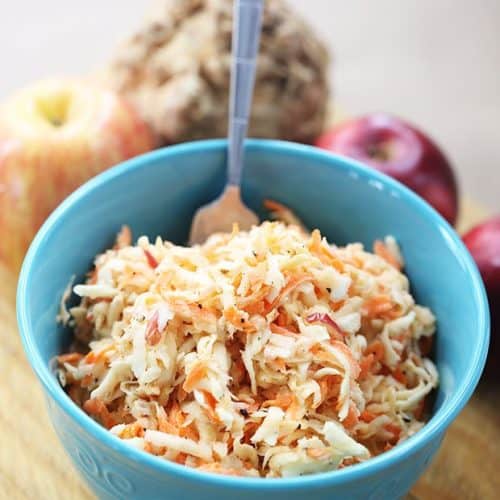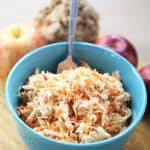 Celery root apple carrot salad
This delicious celery root apple carrot salad is a real gem among my root based salads. It's excellent tender texture, and great flavors make this celery root salad appear on our family menu quite often.
Keyword:
Celery root apple carrot salad, Celery root apple salad, Celery root salad
Ingredients
287

g

Celery root

Shredded

1

Honey Crisp apple

2

Carrots

1/2

tbs

Black pepper

2

tbsp

Mayonnaise

1

tbsp

White Sugar

1/2

tbsp

Vegeta

1/2

Lemon
Instructions
Peel the skin of the celery. Wash it thoroughly.

Shred the celery on box grater. User large-hole side.

Peel apple, carrots and shred it. Combine with previously shredded celery.

Add mayonnaise, black pepper, Vegeta seasoning (or salt), squeeze lemon juice in. Mix all together and enjoy!
Recipe Video
Recipe Notes
To achieve best results use honey crisp apples. Apples need to be fresh and not mushy.
Use fresh squeezed lemon to add that great unique flavor to the salad.
******
Please have in mind that nutrition information should be taken as an estimate of correct values. We use variety of of software to estimate these values.
Nutrition Facts
Celery root apple carrot salad
Amount Per Serving (4 people)
Calories 102
Calories from Fat 23
% Daily Value*
Fat 2.6g4%
Cholesterol 2mg1%
Sodium 557mg24%
Potassium 377mg11%
Carbohydrates 19.7g7%
Protein 2g4%
Calcium 48mg5%
Iron 1mg6%
* Percent Daily Values are based on a 2000 calorie diet.
---