Pineapple Walnut Baked Sweet Potato
December 19, 2016 - 3 Comments
It's cold December day here upstate New York. We totally wanted a baked sweet potato today, but with some extra ingredients on it. We went for pineapple, walnut baked sweet potato with golden raisins and parsley dressing.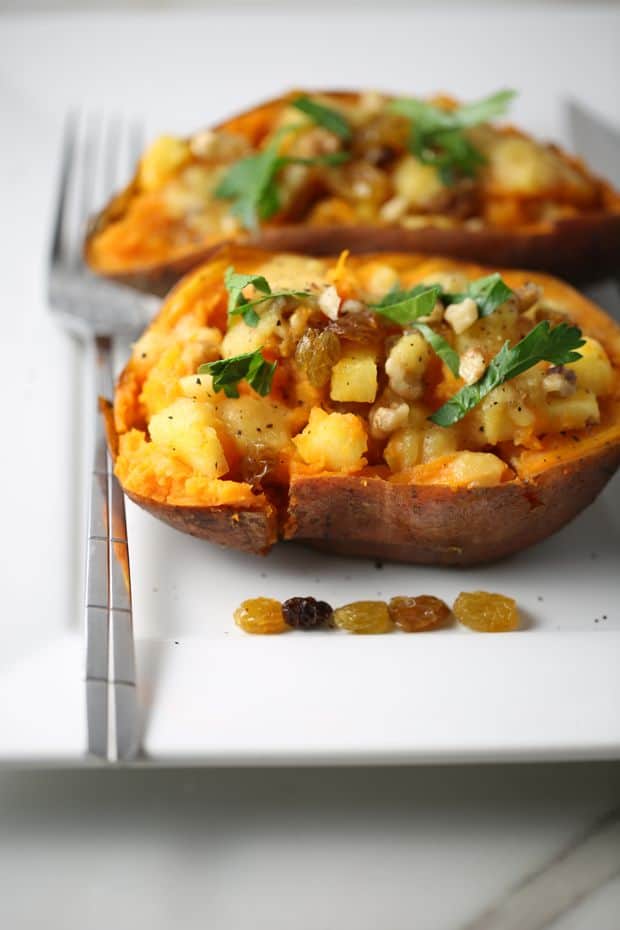 I wasn't sure at first how I wanted to approach this recipe. I did see a bunch of baked sweet potato recipes online but nothing like this.
To make this mouthwatering pineapple walnut baked sweet potato recipe I use three simple core ingredients:
Pineapple
Walnuts
Golden raisins
How to cook sweet potato?
Cooking sweet potatoes is very easy. One important thing to remember about is to pierce the potato with a fork at least a few times for faster cooking.
**Notice down below in the picture the potato has small fork marks.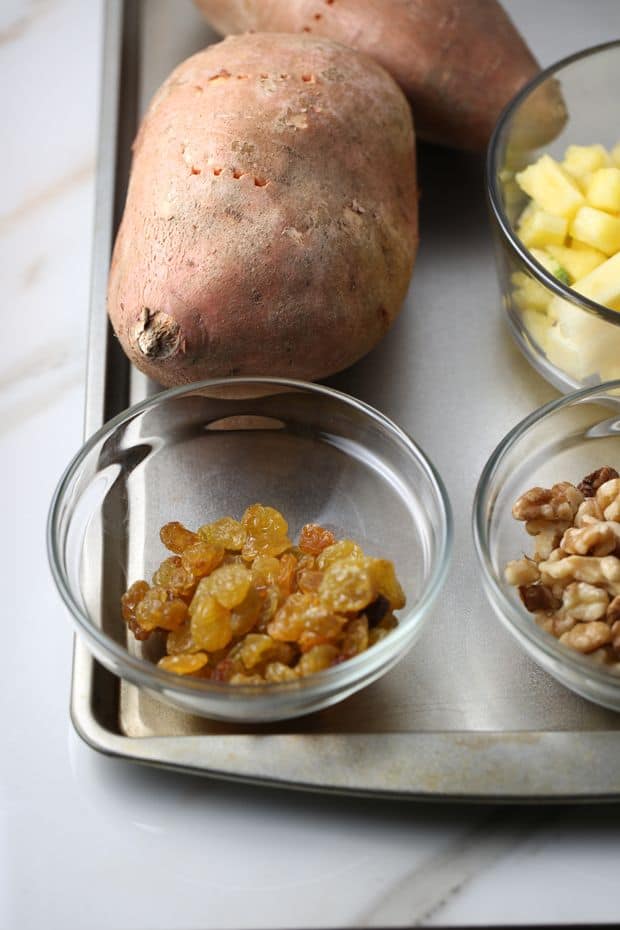 Scooping out the baked sweet potato is relatively easy, but you have to do it in a gentle way otherwise, you might break the potato skin.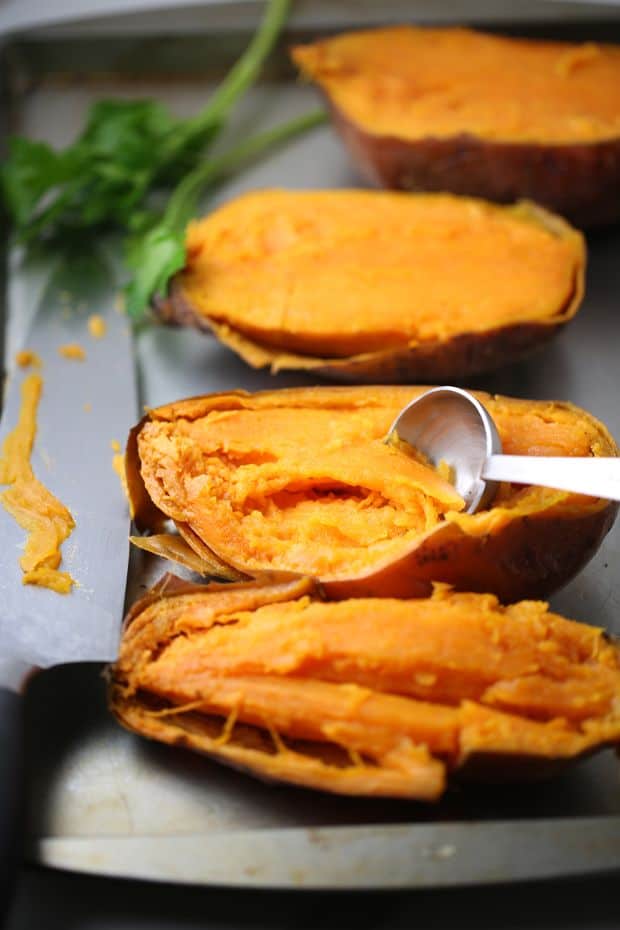 Sauce – I wanted to add an extra pineapple flavor to the recipe. I decided to make the sauce. I took a cup of pineapple, pinch of golden raisins, one tablespoon of brown sugar, and 1/2 cup of milk. Transfer everything to the blender and pulse it for 5 seconds. When potato is ready, bring the sauce to boil and pour a tablespoon on each potato.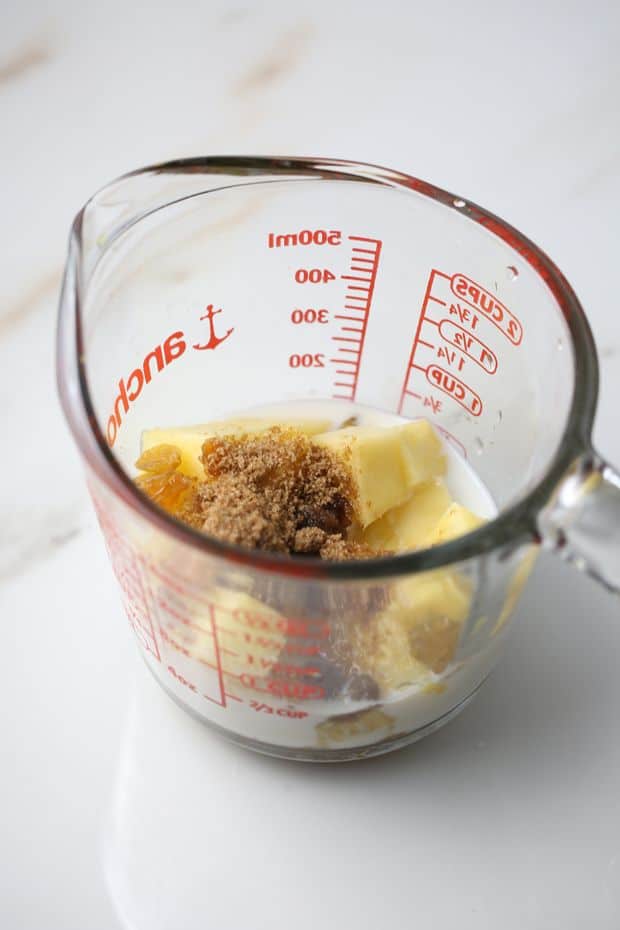 Nutrition value:
On average 2 inch in diameter and 5 inches long baked sweet potato contains 103 calories. It has dietary fiber, Vitamin B6, Potassium, Vitamin A,C and Manganese.  They are low in fat.
This is a perfect vegetarian meal for any occasion. It can be served alone or with a side dish. Fantastic choice for any vegetarian! Feel free to take a look at our vegetarian recipes.
If you make this recipe please snap a picture and hashtag it #foodflavorz – We would love to see your food photos on Facebook, Instagram or Twitter!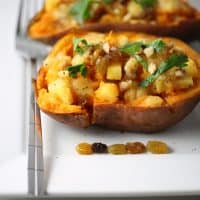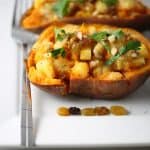 Pineapple walnut baked sweet potato
Pineapple Walnut baked sweet potato with golden raisins. A nice and incredibly good recipe. Easy to prepare and delicious to eat.
Keyword:
Pineapple walnut baked sweet potato
Ingredients
2

medium

Sweet potatoes

2

cups

Cubed pineapple

1

tbsp

Brown sugar

1/4

cup

Golden raisins

1/4

cup

Chopped walnut

1/4

cup

Chopped parsley

1

pinch

Black pepper

1/2

cup

Milk
Instructions
Wash sweet potato under cold water. Pierce it with a fork for faster cooking.


Preheat oven to 400 degrees F. Wrap the potatoes with a tin foil and place it on a baking sheet. Cook for an hour and a half or until potato is soft enough to scoop out.


While our potato is in the oven, dice two cups of pineapple. We will use one cup of pineapple for the sauce, and one to stuff sweet potatoes.

SAUCE:

Combine 1 tablespoon of brown sugar with a cup of cubed pineapple and half a cup of milk. Transfer to a blender and blend for 5 seconds. When the potato is ready, bring the sauce to a boil and poor one tablespoon on each potato.


After one-hour pull potatoes from the oven and cut them half wise on length. Scoop out the inside of the potatoes and transfer to a ball.


Mix with cubed pineapple and walnuts.


Poor a tablespoon of the sauce on each potato. Garnish with chopped parsley and enjoy!
Nutrition Facts
Pineapple walnut baked sweet potato
Amount Per Serving
Calories 882
Calories from Fat 198
% Daily Value*
Fat 22g34%
Cholesterol 10mg3%
Sodium 99mg4%
Potassium 59mg2%
Carbohydrates 165g55%
Protein 18.9g38%
Calcium 220mg22%
Iron 5mg28%
* Percent Daily Values are based on a 2000 calorie diet.
---