Coffee Banana Smoothie
August 21, 2018 - 1 Comments
This is our favorite coffee smoothie recipe to go to when we feel like we need an extra boost of energy, like you know you have the stuff to do, a.k.a ( Make kiddos breakfast, put them on the bus and write another great smoothie recipe!, but you just don't have any energy? ). Yes, I need some coffee in me right now! We love to drink smoothies every morning, most of the time we go for healthy green smoothies. Today is the time to spice up our smoothie menu with Coffee banana smoothie which is a perfect drink for National Coffee Day or just for all coffee lovers.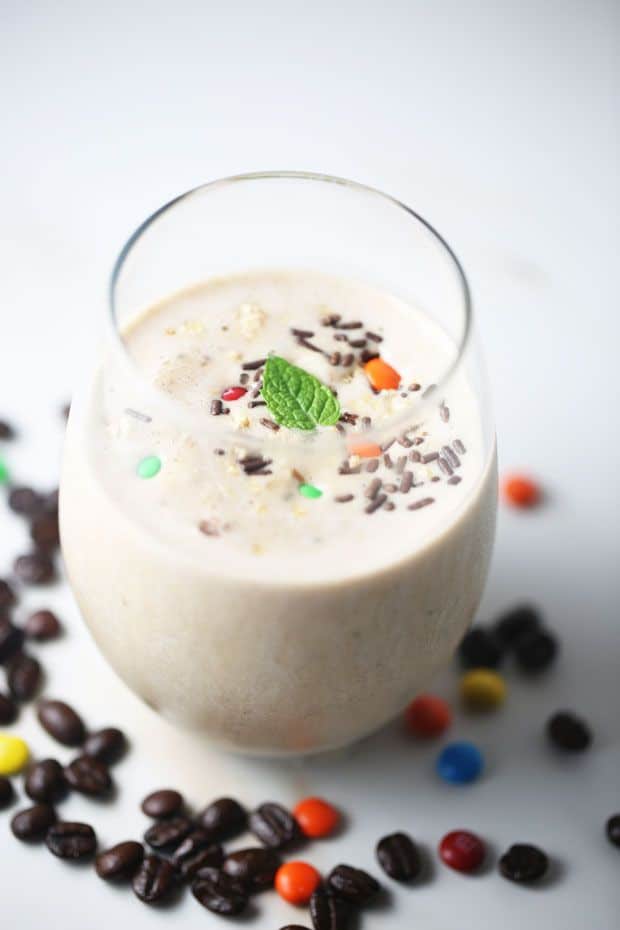 So are you ready to start your morning with a wake me up coffee banana smoothie? Let's take a look at the list of necessary ingredients;
Freshly brewed coffee (frozen into ice cubes the night before), ice cube tray is needed,
Protein powder (to satisfy your hunger. Banana cream flavor.),
Frozen banana (cut into chunks),

Almond coconut milk (just because we love it),

French vanilla almond granola (to sneak some healthy whole grains),

Chia seeds (to boost your health).
What? Chia seeds in the coffee smoothie? Yes, trust us on this one! Banana and coffee blend very well with Chia Seeds. We also added some healthy almond coconut milk to our blended coffee drink. We have seen some recipes with Greek yogurt, but decided to make this coffee banana smoothie without yogurt. This deliciously good peanut butter banana smoothie with coffee is a perfect combination of flavors to satisfy almost anyone who loves coffee and peanut butter.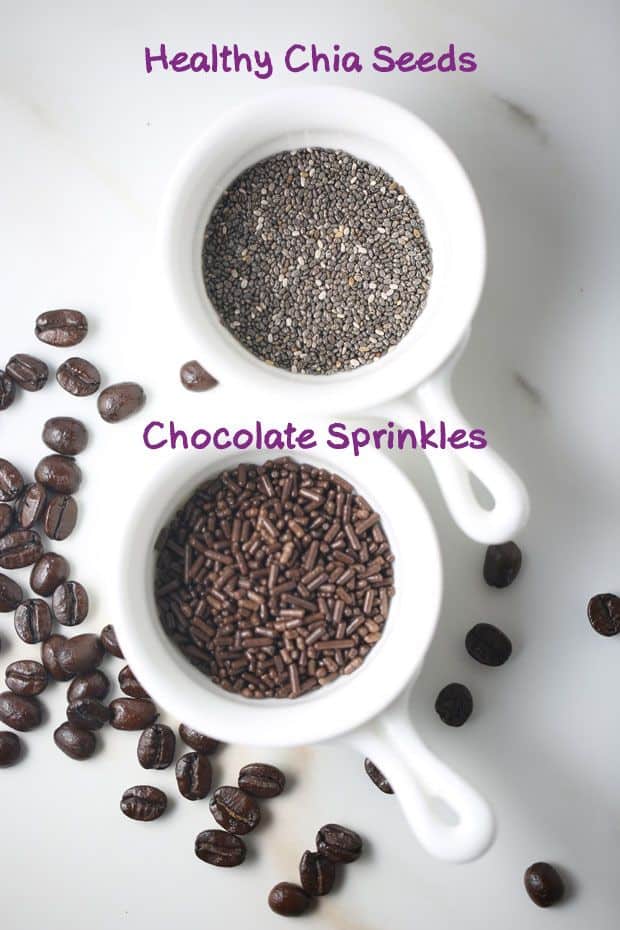 Take a look at these delicious french almond granola! You can pick them up at almost any grocery store. It usually sells in bulk, and you will not need much. The Ideal way of adding some sliced almonds, vanilla and healthy oats to your smoothie.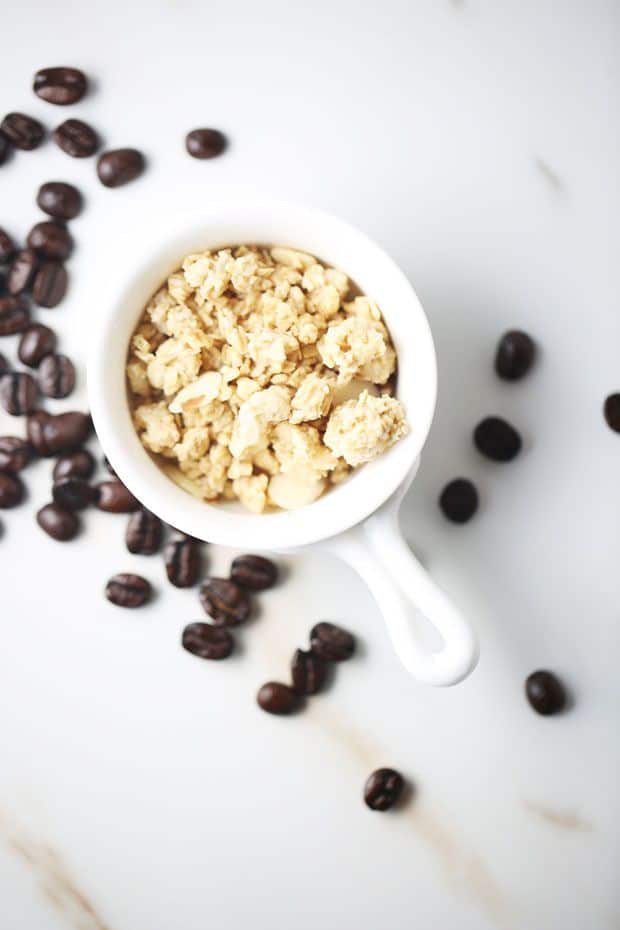 How to make a coffee banana smoothie?
Brew your coffee, let it cool down a bit, pour it into ice cube tray and leave it overnight. Next morning your coffee will turn into beautiful coffee ice cubes that are ready to go to the blender.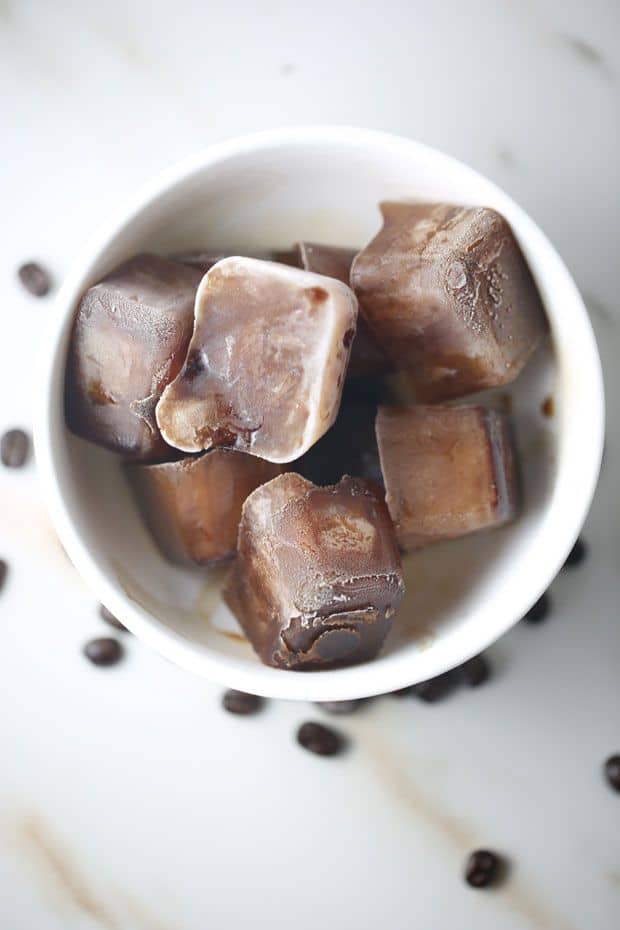 Once the coffee ice cubes are ready to go, you can toss all ingredients into the blender and pulse for about 1-2 minutes. Depends on type of a blender/mixer you own.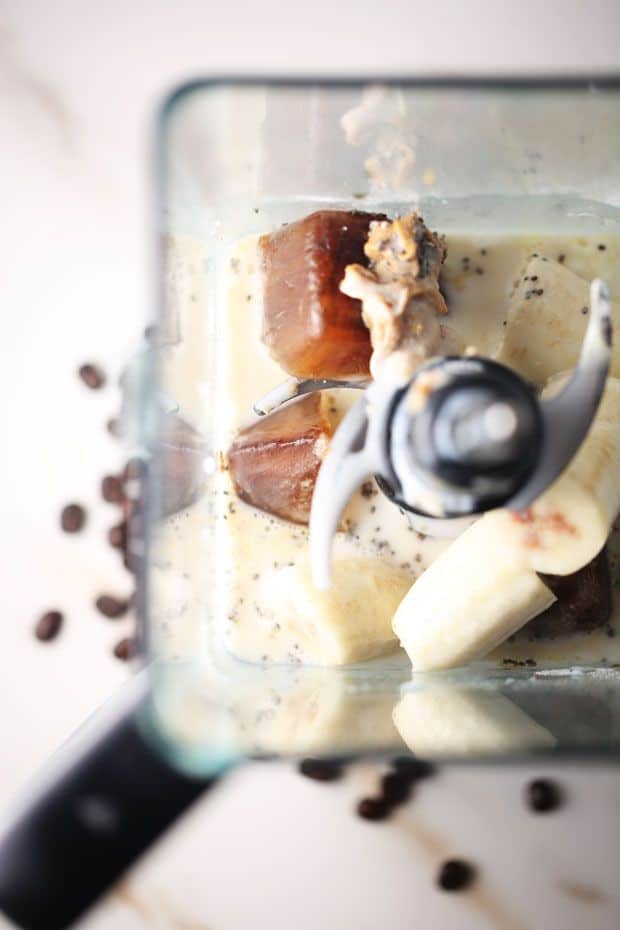 Results are incredibly fantastic! What you should see is this creamy,frothy and full of aroma smoothie.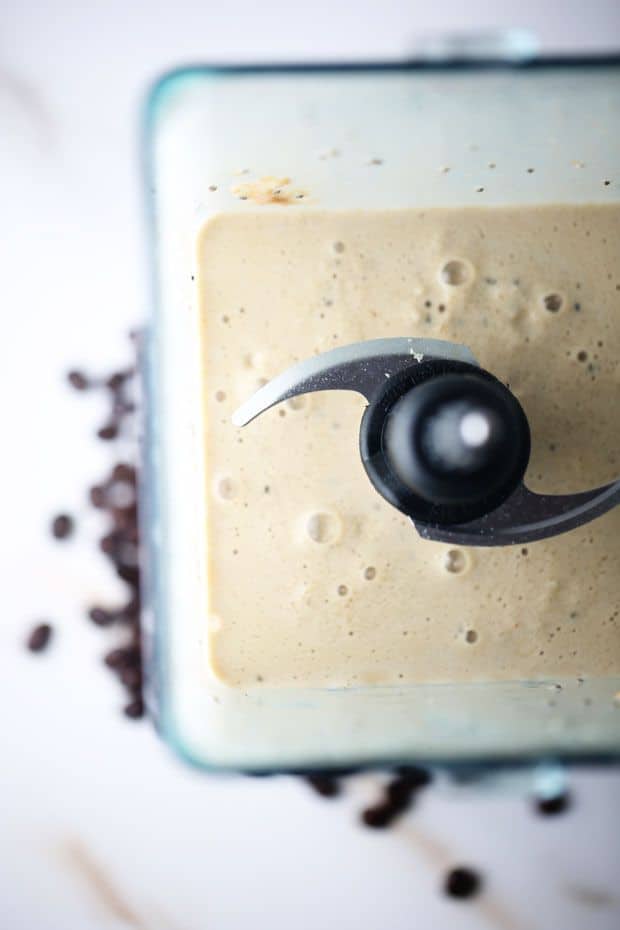 How much coffee do I need to make this coffee smoothie?
It takes about one cup of coffee to make this smoothie but you are welcome to add more. We are pretty sure that you are going to like this coffee smoothie!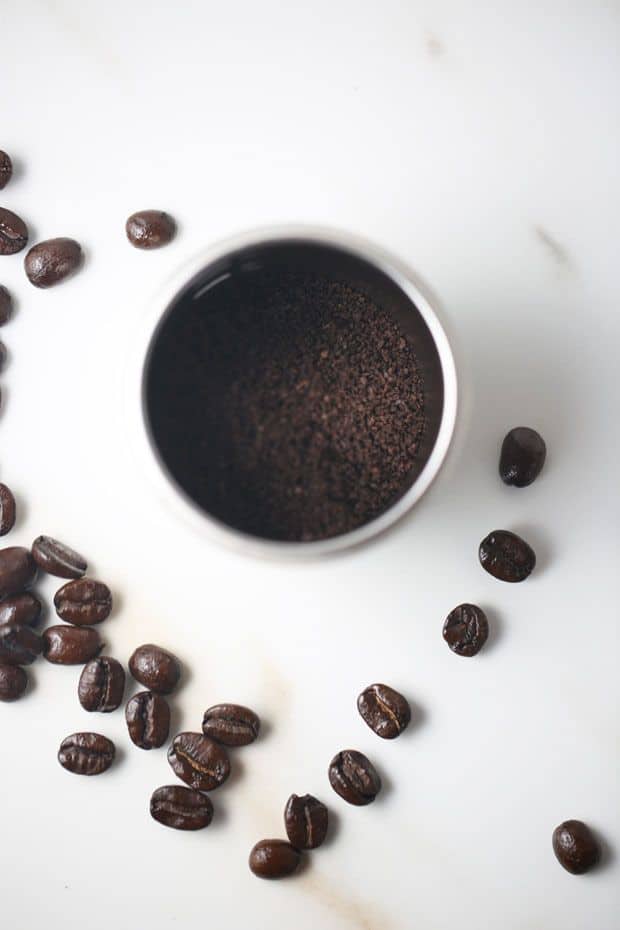 Which coffee flavor is good for a banana smoothie?
We either use Colombian ( Balanced & nutty flavor ) or Costa Rican ( Tarrazu regions ) flavors but would love to try Jamaican Me Crazy coffee next time we make this smoothie.
Why did we use Chia seeds in our coffee smoothie?
The answer is because of the health benefits. Chia seeds are rich in fiber, protein, Calcium, Manganese, Magnesium and many other healthy nutrients. This is definitely a great ingredient to add and enjoy with a wide variety of smoothies, not just this one.
We did garnish our coffee banana almond milk smoothie with chocolate sprinkles, mini M&M's to add an extra surprise element and give it a superior coffee flavor and last, but not least we blended a tablespoon of peanut butter in it.
We were thinking about adding instant coffee to it but changed our mind the last minute, so maybe next time. The good thing about adding mini M&M's to this smoothie is that they add a bit of sweetness, the funny thing about it is that our kids were all about eating them right away. 🙂
We hope that this delicious coffee flavored smoothie is going to be included in your morning routine. Don't wait start your morning with this smoothie and drop us a comment below!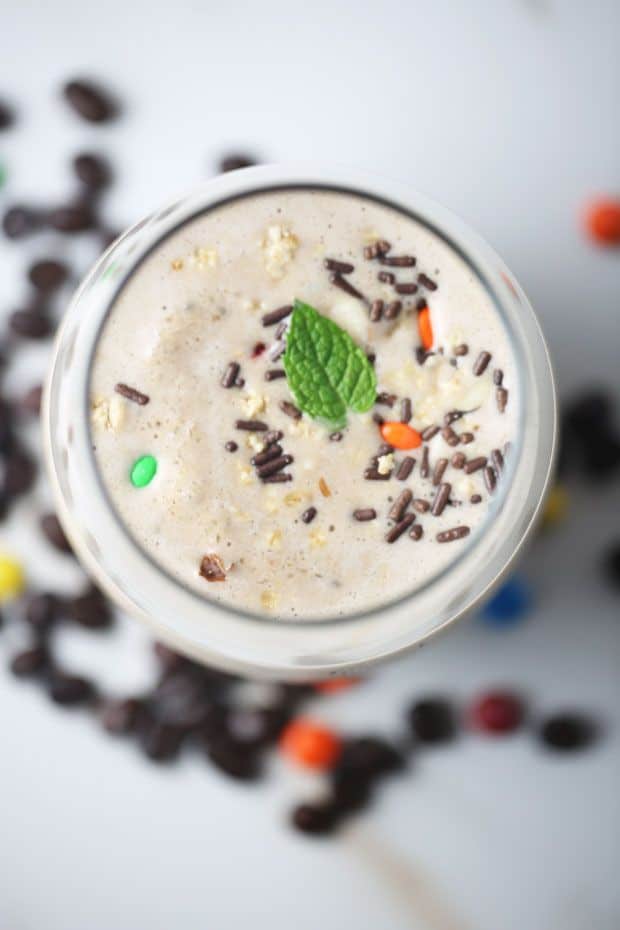 If you make this recipe, please snap a picture and hashtag it #FoodFlavorz – We would love to see your food photos on Facebook, Instagram or Twitter!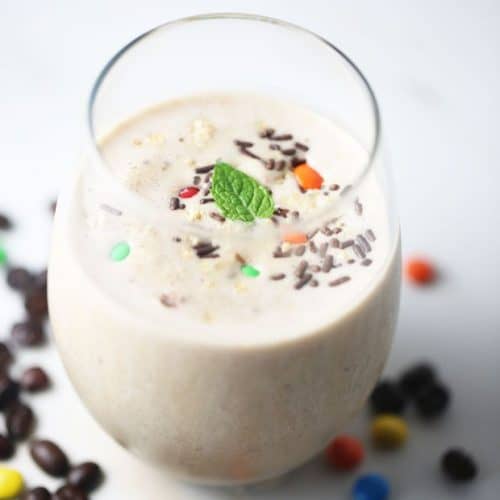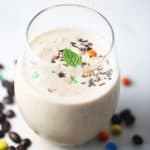 Coffee Banana Smoothie
Deliciously good and easy to make Coffee banana smoothie is a drink to enjoy during your mornings or simply at any time you feel like you need an extra boost of energy! Ideal for National Coffee Day.

Keyword:
Coffee Banana Smoothie
Ingredients
1

tbsp

Chia Seeds

1

Large

Banana

Frozen

1

cup

Freshly brewed coffee

Frozen into ice cubes 9 cubes

1 1/2

cup

Almond Coconut milk

Original

1

tbsp

Protein powder

Banana cream flavor

1

tsp

Peanut butter

1

pinch

Chocolate sprinkles

1

pinch

Milk Chocolate mini M&MS

1

leaf

Fresh mint

1

tbsp

French vanilla almond granola
Instructions
Brew your coffee, let i cool down. Poor into ice cube tray. Should be around 9 ice cubes. Let it sit overnight or until fully frozen.


Get your blender ready! Add ice cubed coffee, chia seeds, frozen banana, almond coconut milk, protein powder, peanut butter. Blend well for about 1-2 minutes.


Poor into a glass and garnish with chocolate sprinkles, mini M&MMS, french vanilla oats. Top with a fresh mint leave and enjoy!

Nutrition Facts
Coffee Banana Smoothie
Amount Per Serving (2 Serves 2)
Calories 199
Calories from Fat 60
% Daily Value*
Fat 6.7g10%
Cholesterol 7mg2%
Sodium 189mg8%
Potassium 449mg13%
Carbohydrates 18.5g6%
Protein 15.4g31%
Calcium 550mg55%
Iron 1.4mg8%
* Percent Daily Values are based on a 2000 calorie diet.
---