Strawberry Spinach Smoothie
September 9, 2016 - 1 Comments
Strawberry spinach smoothie made with healthy spinach, delicious blueberries and, delightful banana. Smooth, great tasting smoothie for anyone looking to gain some quick health benefits and have an excellent drink to power boost your morning. Sounds delicious, doesn't it?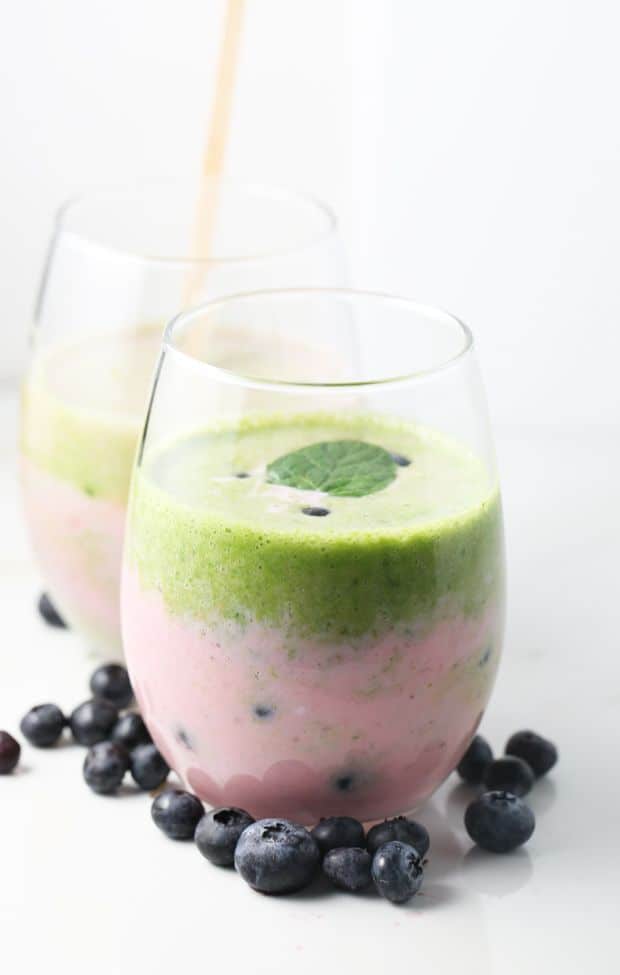 This morning came with a pleasant surprise for us. Our two-year-old kiddo asked us to make a strawberry banana spinach smoothie. 🙂
Yes, believe or not two-year-old asking for a smoothie!
We were super excited to jump start our morning with healthy fruits and veggies and sneak some spinach in our kids diet:)
This smoothie recipe is so easy to prepare, and it only takes a few minutes of your time and, you know how valuable your times is when you have small children demanding breakfast smoothie in the morning!
It takes very straightforward ingredients such as;
Strawberries ( We love to use fresh strawberries in our delicious smoothies, they bring the flavors to the next level. We use fresh most of the time but we do not shy from using frozen strawberries either.)

Blueberries ( Our popular summer treat widely used in variety of our recipes.)
Spinach ( During summer months we use fresh spinach or baby spinach in our  smoothie recipes, and during winter months we mostly go for frozen spinach.) Spinach has amazing health benefits and we love to use it in variety of spinach smoothie recipes.) Using baby spinach yields more sweet flavors so if you are trying to go for milder taste i suggest using it in your smoothie.

Banana ( Magnesium and potassium in bananas can help you manage your blood pressure. )

Kefir ( Great source of probiotics, super healthy for your gut well being. )

Almond milk ( Is it almond milk good for you?, Yes, has less calories than a cow milk, contains no cholesterol. Great ingredient for you if you are trying to lose weight, and a ton of other health benefits. )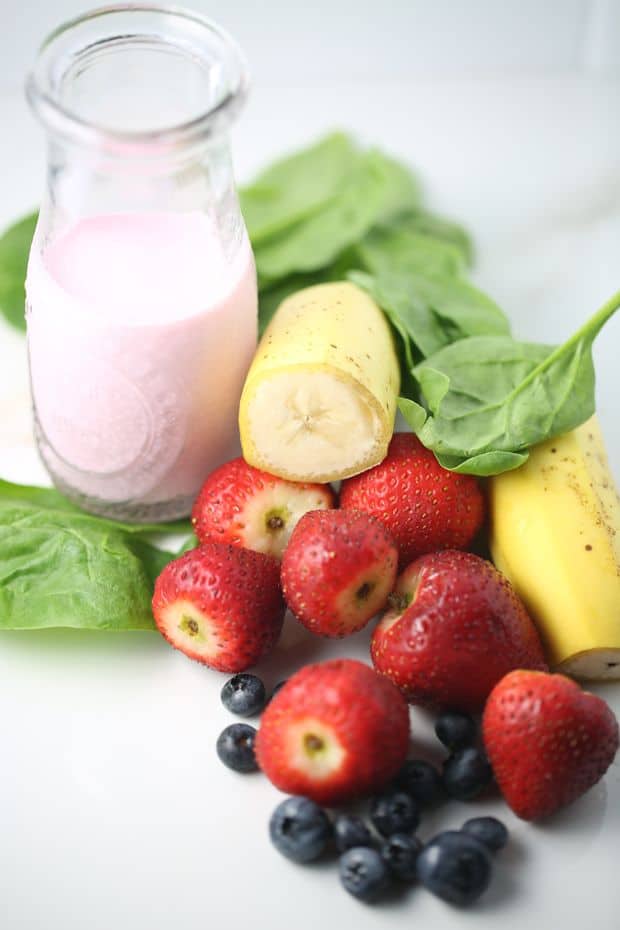 It is so simple to prepare that anyone can make this strawberry spinach smoothie with ease! Next time we would love to use Greek yogurt in these green smoothie.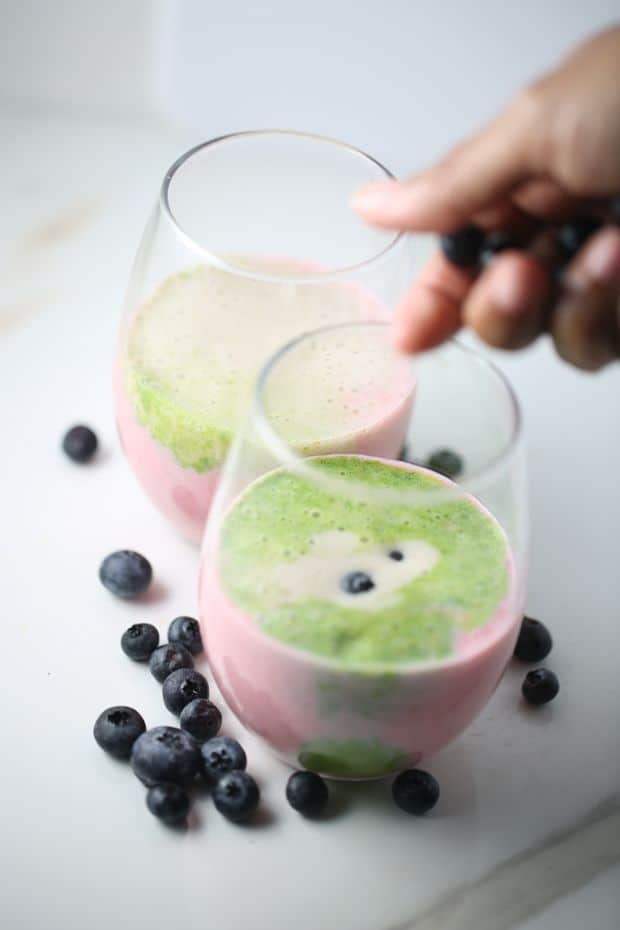 Blend until smooth ( good quality blender makes this process very easy ), throw a few extra blueberries to garnish your smoothie. I also added a mint leaf to add aroma to my smoothie and, I have to say this was a good idea.
Serve cold and enjoy! Btw, my two-year-old daughter loved this smoothie. 🙂 Hot day today, don't wait give it a  try!
Are you looking for a green smoothie?, take a look at this excellent  Healthy spinach smoothie recipe.
How to make a Strawberry Spinach Smoothie?
Follow these simple instructions below;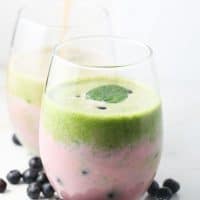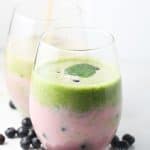 Strawberry spinach smoothie
Strawberry spinach smoothie made with healthy spinach, delicious blueberries and, tasty banana. Easy, great tasting smoothie for everybody.
Keyword:
Strawberry Spinach Smoothie
Ingredients
1

Banana

1/2

cup

Blueberries

1

cup

Spinach

6

Strawberries

1

cup

Kefir

Cherry flavor

1

cup

Almond milk
Instructions
Combine strawberries with kefir in a blender. Blend for about 5-10 seconds. Poor in a glass.


Blend spinach with almond milk. Pour in a glass with strawberries. Add blueberries.





Blend banana with almond milk and, combine with the rest of the smoothie. Stir and dress with mint leaf. Enjoy!

Nutrition Facts
Strawberry spinach smoothie
Amount Per Serving
Calories 451
Calories from Fat 271
% Daily Value*
Fat 30.1g46%
Cholesterol 5mg2%
Sodium 94mg4%
Potassium 694mg20%
Carbohydrates 41.2g14%
Protein 11.3g23%
Calcium 150mg15%
Iron 3.2mg18%
* Percent Daily Values are based on a 2000 calorie diet.
If you make this recipe please snap a picture and hashtag it #foodflavorz – We would love to see your food photos on Facebook, Instagram or Twitter!
---