Vegetarian Lentil Soup
January 29, 2017 - 2 Comments
This healthy Vegetarian lentil soup features white onion, carrots and three different kinds of lentil beans, green, red and brown. Perfect soup for colder weather, fall or winter. Can be served with bread, chips or by itself. It is amazing in taste and as I stated above healthy! If you find yourself in need for great lentil beans soup, don't hesitate and go for it.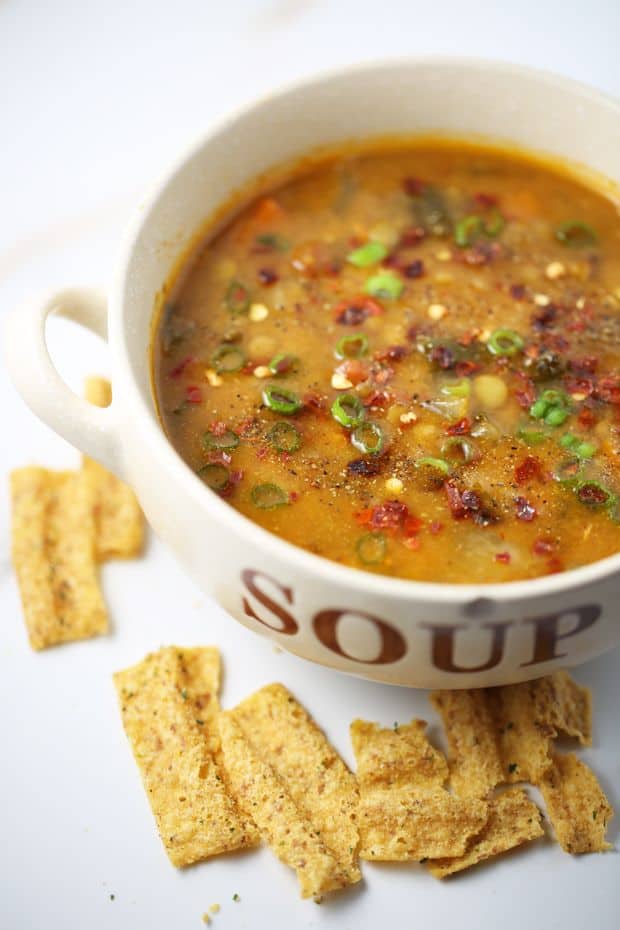 We recently went through a detox to cleanse our body and kick start more of a healthy approach to our diet. This delicious vegetarian lentil soup was our first meal after our cleanse. I have to say this soup exceeded our expectations. Carrots sauteed with chopped white onion bring great flavors. Curry and thyme spices bring taste to a new level. From now on this soup will often be served in our home 🙂
Although this lentil soup calls for quite a few ingredients, it is relatively easy to make. It boils down to 3 core vegetables, onion, carrots, and lentils.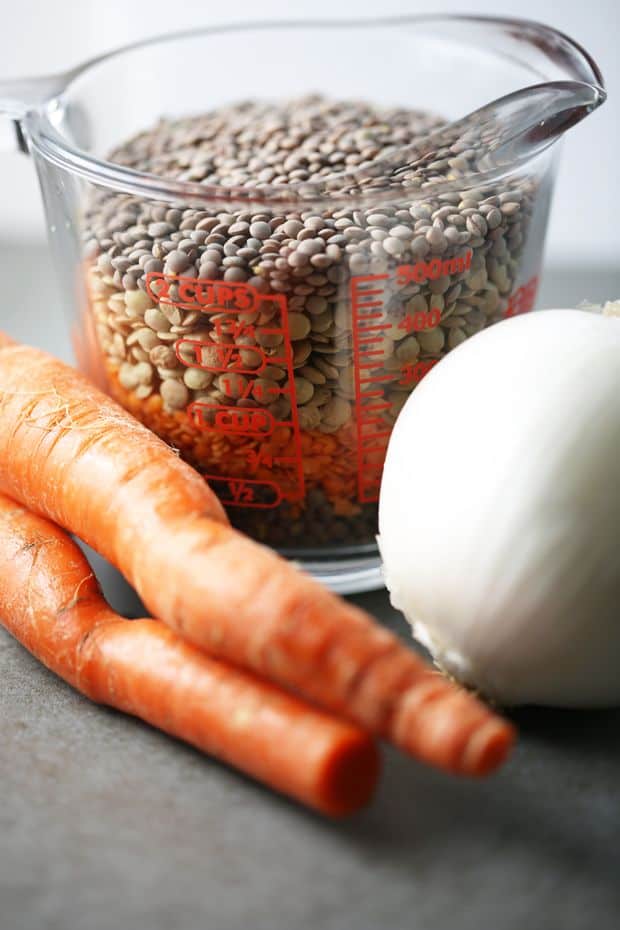 Look at these pretty simple ingredients below that make this delicious vegetarian lentil soup.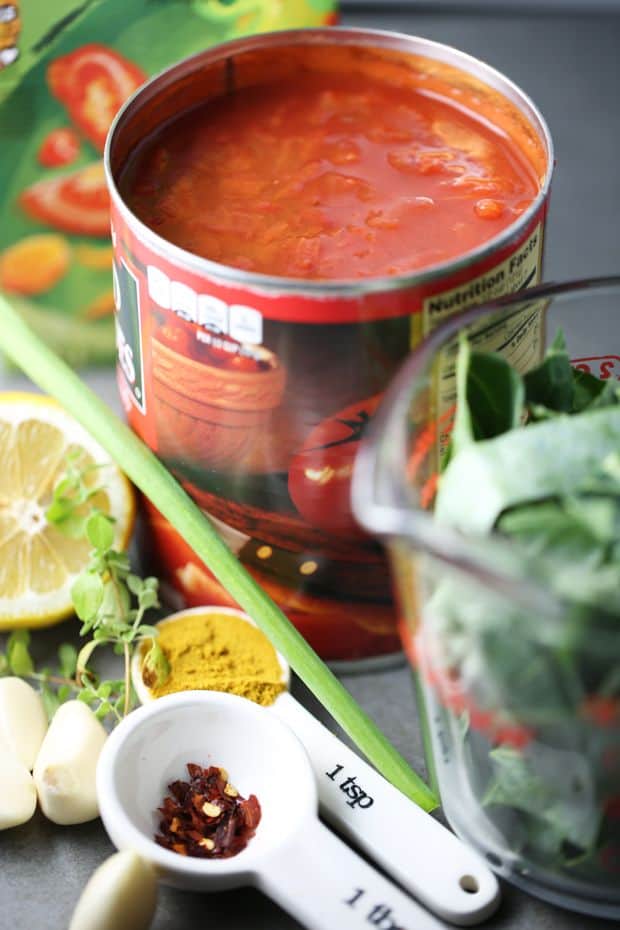 So here we go! 🙂 Dice an onion peel the carrots and cut into strips.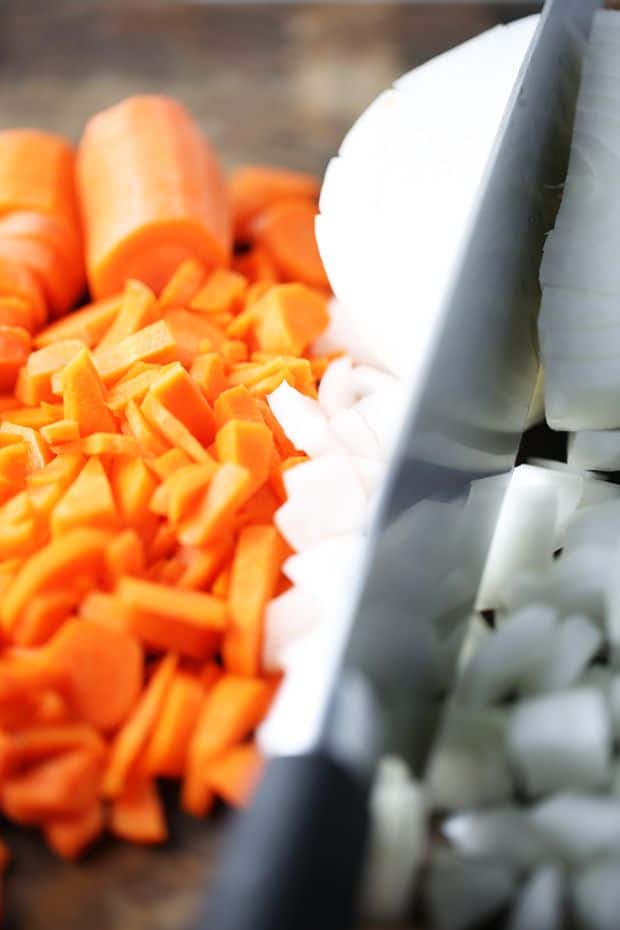 A large pot will be needed to start cooking onions and carrots. I used about 6 quarts pot.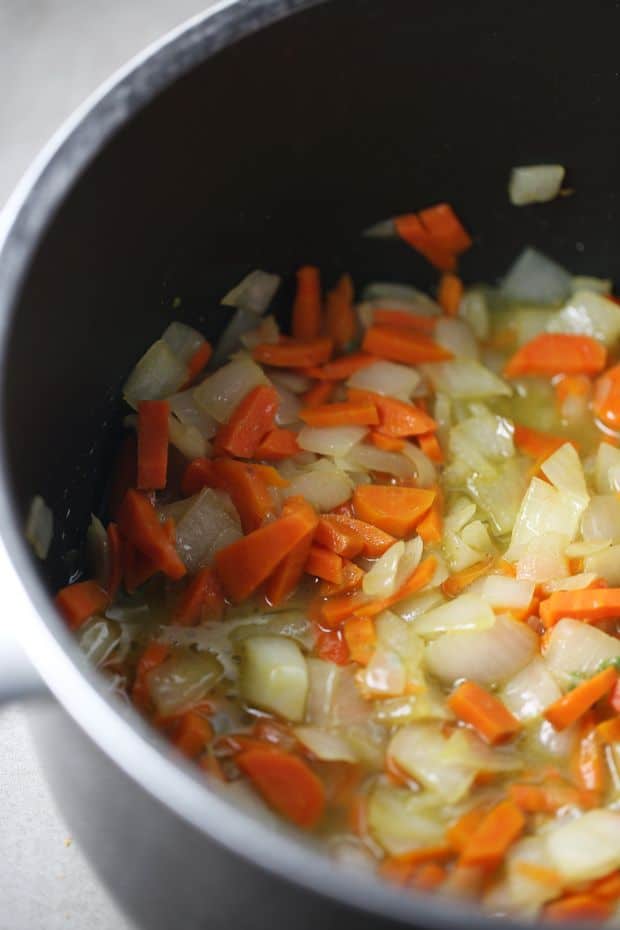 Next step is to add water, culinary vegetable stock, tomatoes and bring your soup to a boil and set it to medium. Continue cooking for about 25 more minutes.
Add your collard greens ( you can replace collard greens with kale if you prefer)and, season with salt, black pepper, red pepper flakes.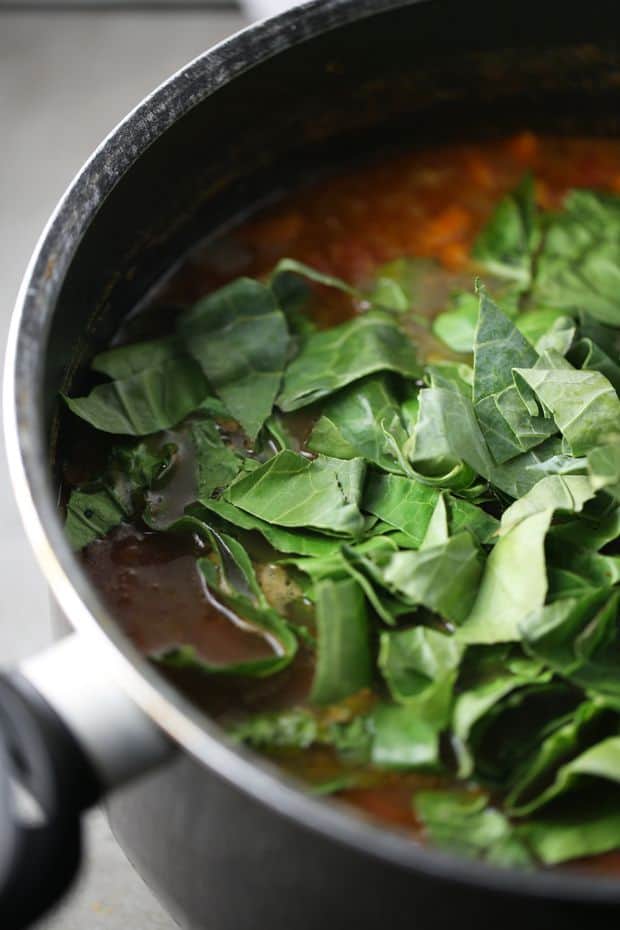 Last but not least squeeze the lemon to season with fresh lemon juice and serve while the soup is hot!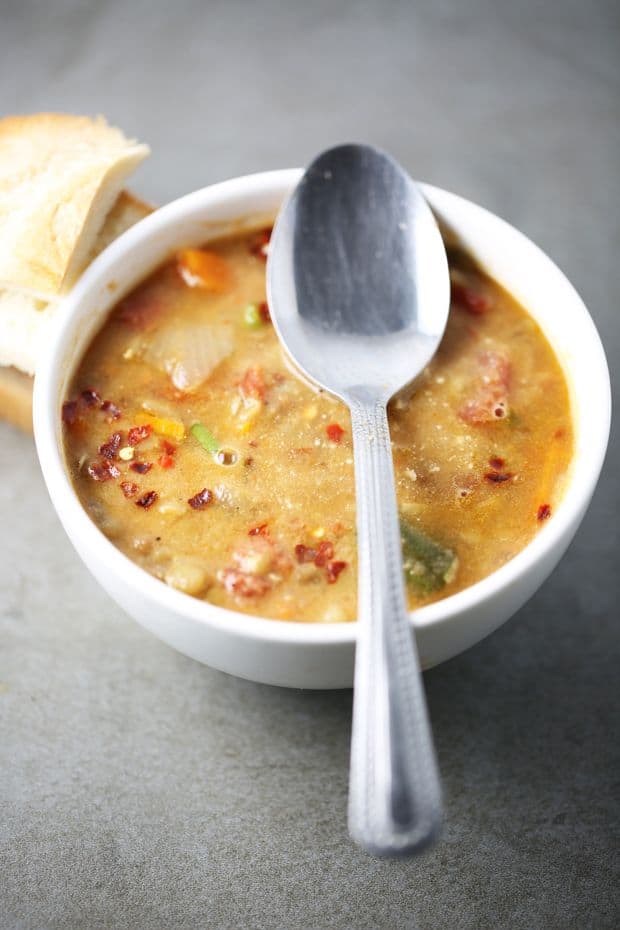 This vegetable lentil soup can be made with a variety of different meats or vegetables.
Try chicken, beef, ham hock, bacon, ham bone, sausage or spinach, kale. Honestly it will taste fantastic with any vegetable or meat.
Of course when you get a chance please take a look at more of our soup recipes.
If you make this recipe please snap a picture and hashtag it #foodflavorz – We would love to see your food photos on Facebook, Instagram or Twitter!
How to make vegetarian lentil soup?
Just follow these simple instructions below.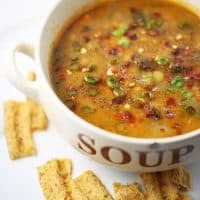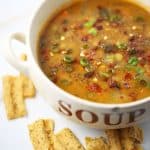 Vegetarian Lentil Soup
Healthy vegetarian lentil soup - White onion, carrots and three different kinds of lentil beans, green, red and brown. I promise you will fall in love with this recipe!
Keyword:
Vegetarian Lentil Soup
Ingredients
1

medium

White onion

2

Carrots

Diced

1

cup

Brown lentils

1

cup

Green lentils

1

cup

Red lentils

1

tsp

Curry powder

3

tbsp

Olive oil

4

clove

Garlic

1

pinch

Red pepper flakes

1

tsp

Black pepper

1

stem

Scallion

32

oz

Vegetable culinary stock

2

cups

Water

1

cup

Collard greens

Chopped

1/2

medium

Lemon

Juiced

1

28oz

Crushed tomatoes

Canned
Instructions
Dice onion into medium small squares, peel carrots and cut into thin stripes.

Preheat olive oil in a large size pot (about 6 quarts). Add onion and carrots and cook until onion becomes translucent. Spice with curry and fresh thyme.

Add lentils, tomatoes, vegetable culinary stock and, water. Season with black pepper and salt. Bring it to a boil and lower to medium. Cook for about 25-30 minutes

Take about 16 oz. of soup broth and vegetables and set aside to cool down. Once it's cool, blend it well and pour back into the pot, which will make the soup texture thicker.

Squeeze ½ a lemon and spice with red pepper flakes and thinly cut scallion stem. Serve while hot and enjoy!
Nutrition Facts
Vegetarian Lentil Soup
Amount Per Serving
Calories 374
Calories from Fat 68
% Daily Value*
Fat 7.6g12%
Cholesterol 3.4mg1%
Sodium 191mg8%
Carbohydrates 57.4g19%
Protein 22.1g44%
Vitamin A 900IU18%
Vitamin C 7.4mg9%
Calcium 370mg37%
Iron 5.8mg32%
* Percent Daily Values are based on a 2000 calorie diet.
---