Healthy Pan Fried Buckwheat – Vegan
January 1, 2020 - 4 Comments
Buckwheat (Kasha) is an amazing Superfood and is often overlooked, but truth be told, it is so delicious and very healthy when made properly. It is also gluten-free and Vegan-friendly!
Growing up as a child in Eastern Europe we often found pan-fried buckwheat on our plates and were super excited to eat it. When I was a kid, of course, the only thing I cared about was if kasha tasted right. I didn't care about the many benefits of buckwheat but now knowing how healthy it is, I serve this scrumptious side dish to my children all the time and they love it.
What is kasha (buckwheat groats)?
The simple answer is they are plant-based whole buckwheat grains. It is a gluten-free ancient grain not related to wheat. Kasha goes trough the toasting process and its grains will look more golden brown.
Buckwheat groats are not toasted. Kasha is served daily throughout most of Eastern Europe, can be served as a side dish as a meal itself, it tastes amazing when paired with a glass of milk. Kasha is also referred to as a type of pseudocereal, porridge made from buckwheat, oats and other grains.
What does buckwheat look like? see the picture below.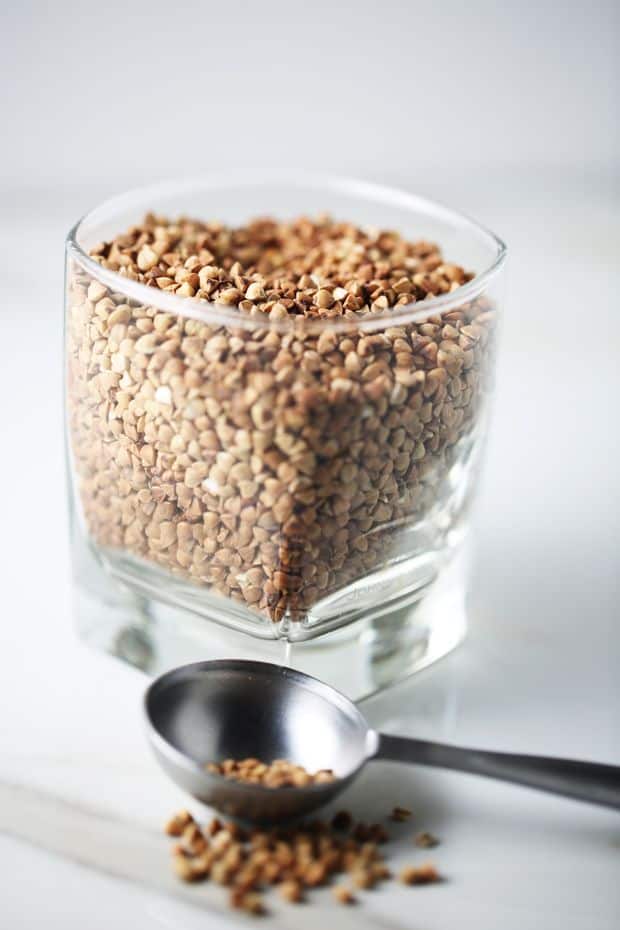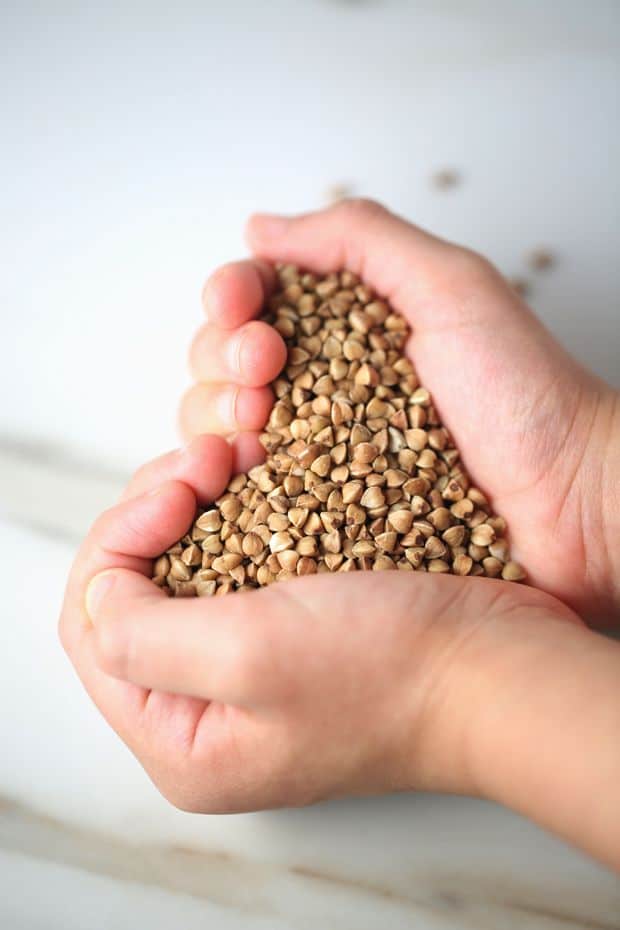 Simple ingredients needed for this Kasha recipe are;
Buckwheat. Look around for an Eastern European store near you or a section in your store that sells international food. It may also be in the organic section. Go for toasted buckwheat as it will taste a little bit better, with a more nutty flavor.
Water. (We use filtered water)

Vegeta Seasoning or Salt. (found in the international isle)

Butter or Olive oil. (optional)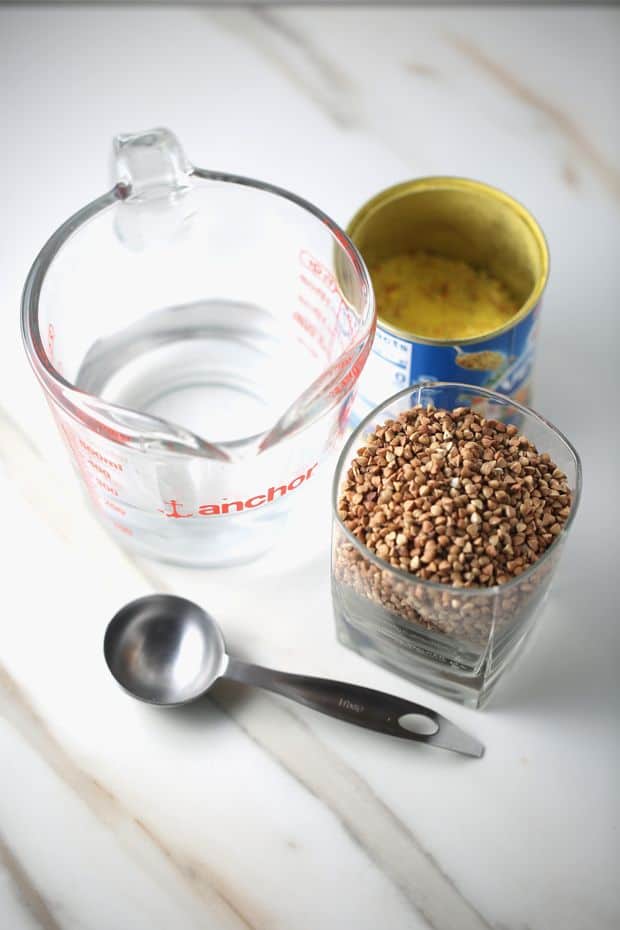 How to cook buckwheat groats (Kasha)? Pan-fried method.

There are a few different ways you can cook this ancient grain, such as boil, use instant pot, rice cooker, pressure cooker or simply pan fry which we think is the best way.
Pan-frying kasha allows you more direct control over other cooking methods. I love the fact that I can quickly check the texture of the groats and add more water if they are a bit too dry. I can simmer it a bit longer if needed to get that extra-fluffy texture I am looking for, or I can choose to cook it a bit less and have the groats be a bit on the harder side. One thing that you want to avoid is the grains coming out mushy.
I have seen some buckwheat recipes calling to soak the buckwheat, I choose not to as I find that rinsing the groats just before cooking it is good enough to achieve the desired texture and taste. I love when it comes out a bit moist and fluffy but not dry.
1. Combine buckwheat and water (Kasha water ratio is 1:2 or 1:1 ½) in a frying pan, cover the pan and let the water cookout. Stir occasionally.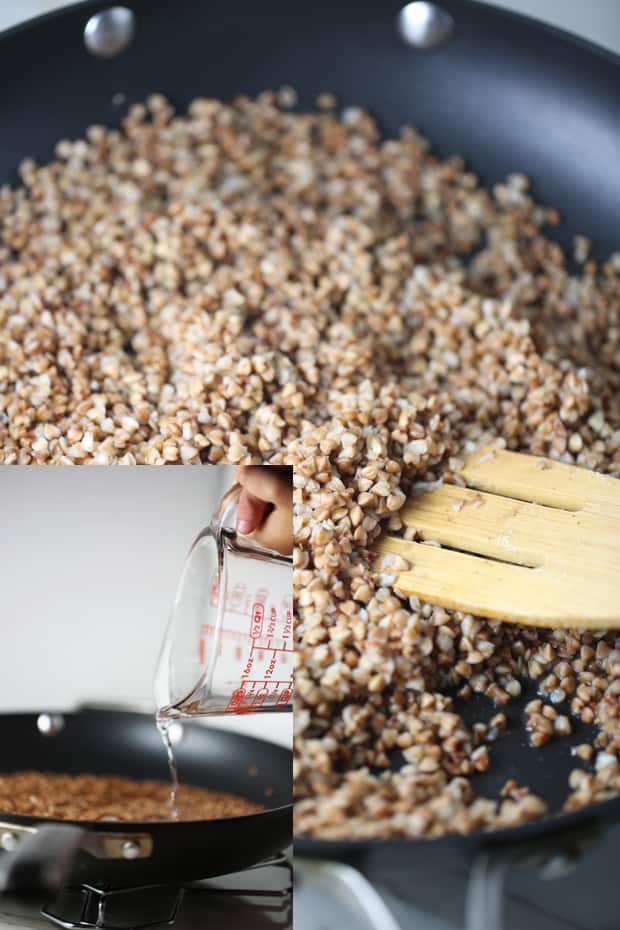 2. After about 20 minutes of cooking, season with Salt or Vegeta seasoning, then stir more and continue to simmer for an additional 15 minutes. if you would like, you can add some butter here for more taste. Garnish with some green scallions, pair with a glass of milk end enjoy!
Where to buy buckwheat?
We buy our Kasha in local Eastern European stores as we find that it tastes the best and it is easily affordable, about $2-4 a bag (4 cups). If you do not have any of these stores around you we would recommend checking an international aisle in any bigger food store.
Can cooked buckwheat be frozen?
Yes, you can freeze it and keep it stored for later use. Simply cook buckwheat let it completely cool down then transfer into freezer bags.
How to store buckwheat groats?
Place it in the airtight container in a cooler and darker area for the expected life shelf around 3 months. The groats will last up to 6 months in the refrigerator. The main idea is to keep excessive moisture penetrating the grain.
Other popular buckwheat dish recipes;
Buckwheat cookies
Buckwheat tea
Egg Kasha
Buckwheat stir fry
Buckwheat porridge (breakfast cereal)
Buckwheat with pancake flour
Buckwheat muffins
We also use pan-fried buckwheat in a variety of meal prep recipes, as pan-fried kasha pairs well with just about anything, shrimp, scallops, pork, avocados and many more.
Is buckwheat good for you?
Yes, first of all, it is a gluten-free grain, rich in fiber, protein, iron, and vitamin B6. It's a perfect food use on a variety of diets such as the keto diet.
Get yourself a nice and chilled glass of milk and enjoy this healthy January side dish!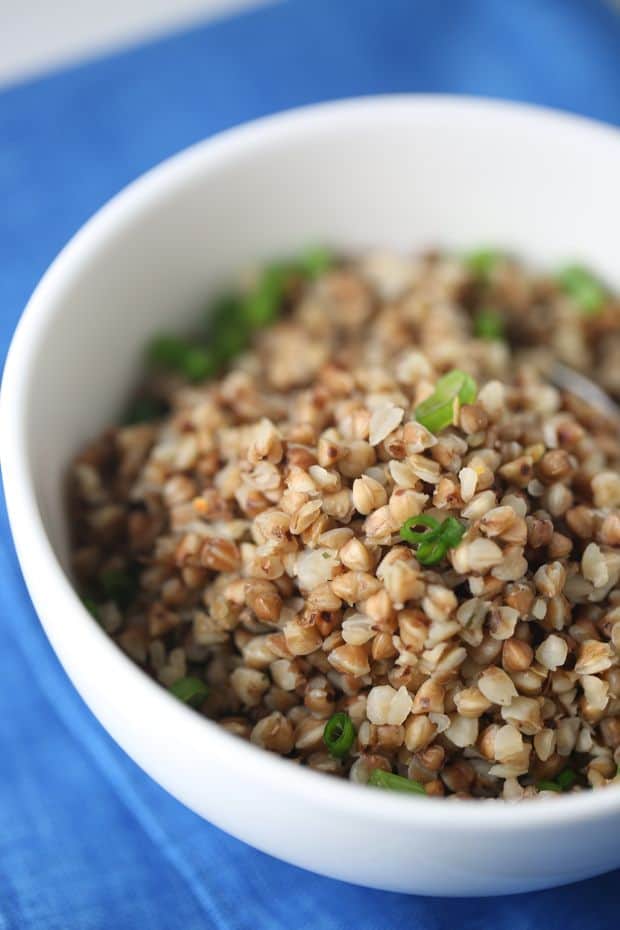 If you make this recipe, please snap a picture and hashtag it #FoodFlavorz – We would love to see your food photos on Facebook, Instagram or Twitter!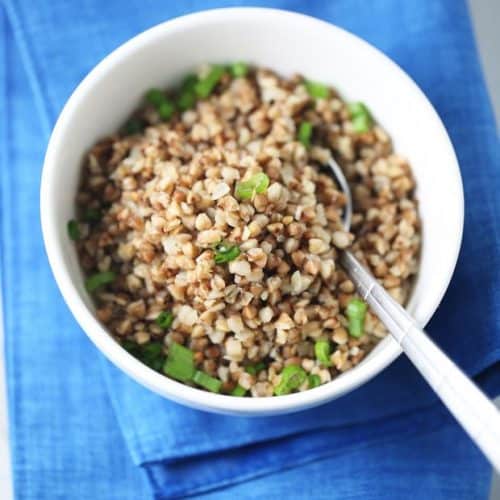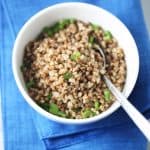 Healthy Pan Fried Buckwheat – Vegan
Healthy Pan-fried buckwheat recipe. Delicious and gluten free. Pair with glass of milk and enjoy!
Cuisine:
Eastern European
Keyword:
Fried buckwheat,Pan-fried buckwheat,Kasha,Fried Kasha
Ingredients
1

cup

Buckwheat

1 1/2

cup

Water

1

tsp

Vegeta spice
Instructions
Rinse, drain buckwheat groats.

Transfer buckwheat to frying pan. Add water,cover the pan, and bring it to boil. Stir occasionally. Let the water cookout. It will take about 20 minutes.

Season with Vegeta spice or salt. Lower the heat and simmer for an additional 15 minutes to achieve the desired texture. Stir occasionally. Garnish with scallion and enjoy!.
Recipe Notes
Expert tips
To achieve softer kasha (buckwheat groats) you may need to add more water. We like ours extra soft, so while groats are cooking we check regularly and add more water if needed.
If you like the buckwheat to be on a harder side add less water and cook for about 15-18 minutes.
Add butter or olive oil after water boils out, stir it well to get extra flavors in there.
Nutrition Facts
Healthy Pan Fried Buckwheat – Vegan
Amount Per Serving (40 g)
Calories 140
% Daily Value*
Sodium 4mg0%
Carbohydrates 25g8%
Protein 5g10%
Calcium 3mg0%
* Percent Daily Values are based on a 2000 calorie diet.
---