Easy Baby Romaine Lettuce Salad
December 28, 2019 - 1 Comments
If by any chance you are in the need of a good baby romaine salad recipe, please look no further and give this deliciously good lettuce salad a try! It only takes a few ingredients and not much time to make. Results are amazing and you and your family will be pleasantly surprised how refreshing this baby romaine mix is.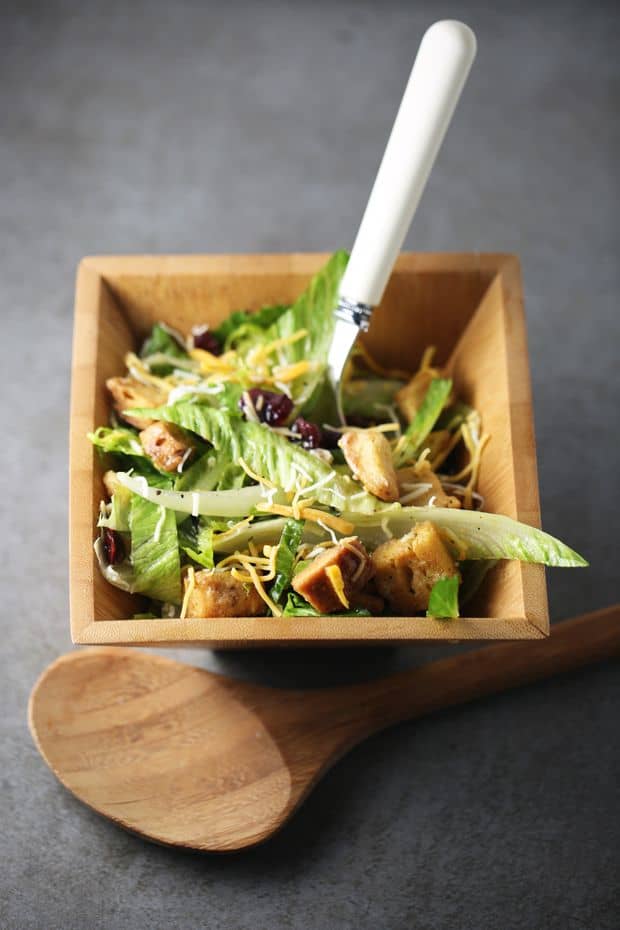 Healthy and refreshing ingredients needed for this baby lettuce salad are;
Baby Romaine Lettuce. (One lettuce head will easily serve two adults.)
Dried Cranberries.
Croutons. (Garlic flavored ones are our best recommendation, at least for this particular recipe.)
Shredded cheese. (Colby jack and Mexican, in 50/50 ratio.)
Extra virgin olive oil.
Balsamic dressing vinegar. (1/8 of a cup per serving is needed for it to taste great.)
Freshly ground black pepper.
Pinch of salt. (We use "Vegeta spice" or Himalayan salt four our needs.)
Why did we choose Baby romaine lettuce over regular romaine for this salad?
Mainly because we were looking for a crunchy, juicier bite and that fantastic crisp texture. At the same time taste is less bitter which pairs well with ingredients we chose for our salad mix. We also love the healthy ingredients that come with both such as fiber, Vitamins A, C, K, thiamin, vitamin B6 and a few others.
How to choose perfect baby romaine lettuce?
Make sure the size of the lettuce head is small to medium size, with tightly packed leaves. Color-wise you are looking at picking one with darker green leaves fading to yellow/pale green. In my personal opinion the smaller the better, they tend to be more crisp and mild in taste.
What does baby romaine lettuce look like? Take a look at the picture below.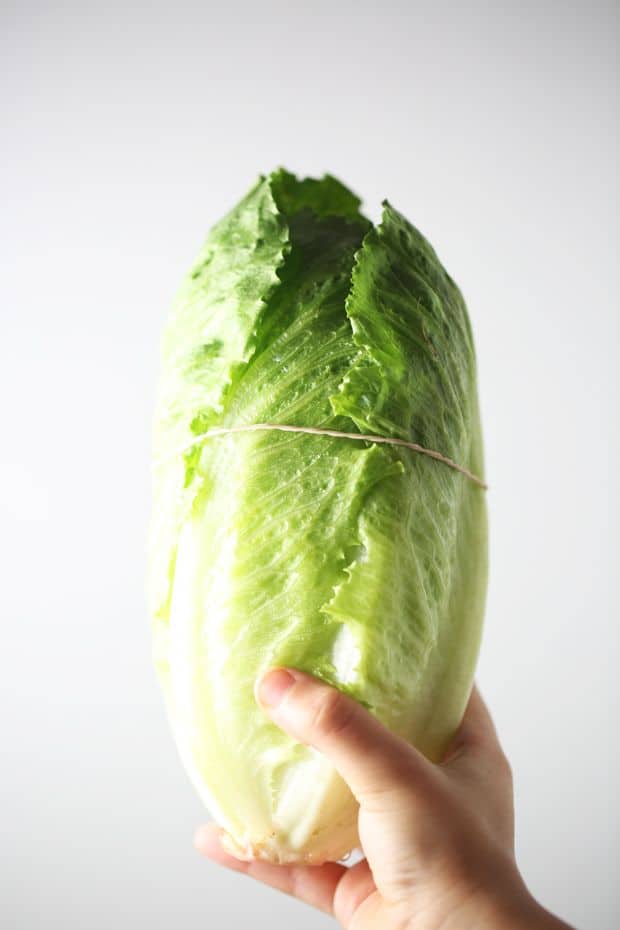 How to make baby romaine lettuce salad? or How to make a crisp lettuce salad?

My wife and I were looking to make something easy tonight but at the same time presentable and tasty. The kids were already asleep so we didn't have to worry about them not liking our fancy salad ideas :).
We started by washing the lettuce head and cutting it into two even halves, then cut each half into long strips. Toss the lettuce into the bowl and add croutons, cheese, and dried cranberries. Season with salt and pepper. Drizzle extra virgin olive oil and balsamic vinaigrette dressing. Give everything a mix and it's all ready to enjoy.
How to cut romaine lettuce?
A baby romaine lettuce cut into two even halves, makes it easier to dress and prep the salad.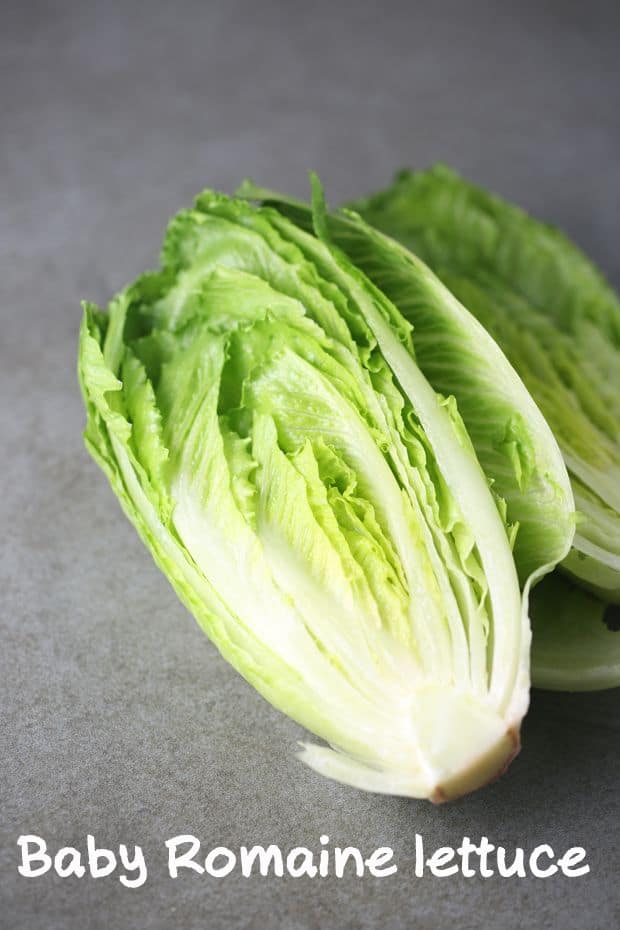 Cut the lettuce into strips and tossed into the bowl. (Look at that crispy lettuce texture!)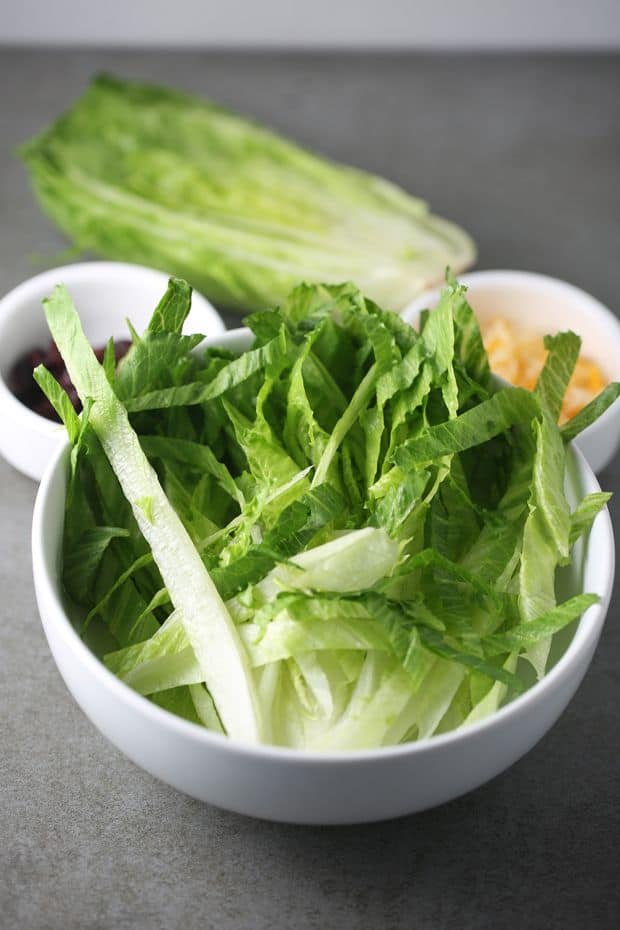 How to store romaine lettuce?
Bought the lettuce but not ready to make the salad just yet?, no problem. Store in a closed plastic bag in the fridge for up to a week. Wash it right before you are ready to make a salad.
If you are planning on making this recipe the next day you can also cut the lettuce into two even halves and wrap them in clear plastic.
Feel free to experiment with other ingredients to customize this salad to your liking. We think adding cherry tomatoes to the ingredient list may be a good idea. Simple and fresh baby romaine lettuce salad ingredients are shown below;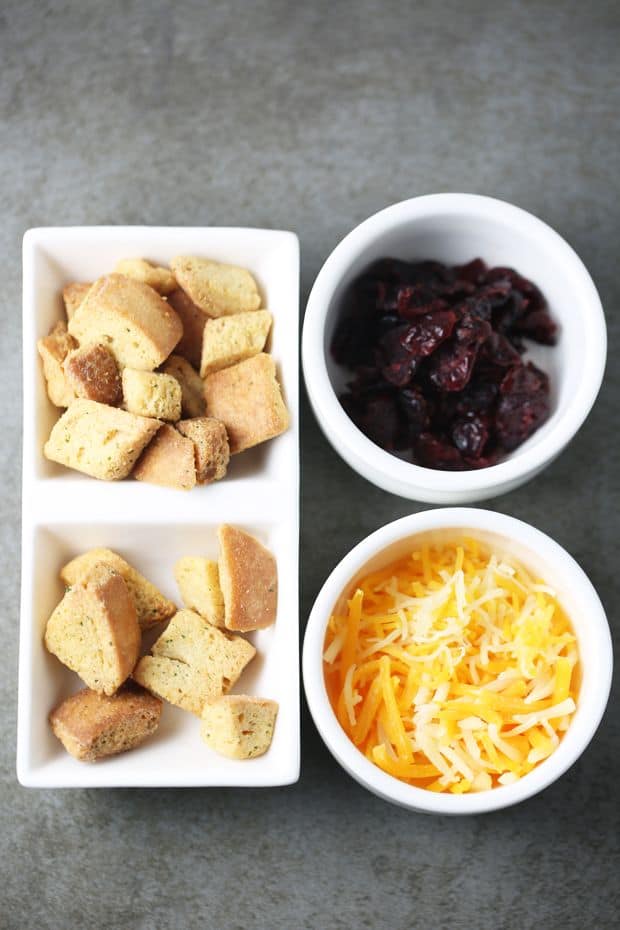 Combine all the ingredients, drizzle with extra virgin olive oil and balsamic dressing vinegar.
If you are on the hungry side and would like to add some protein with it. This delicious and crispy salad pairs well with steak, shrimp, tofu, avocados, and boiled eggs.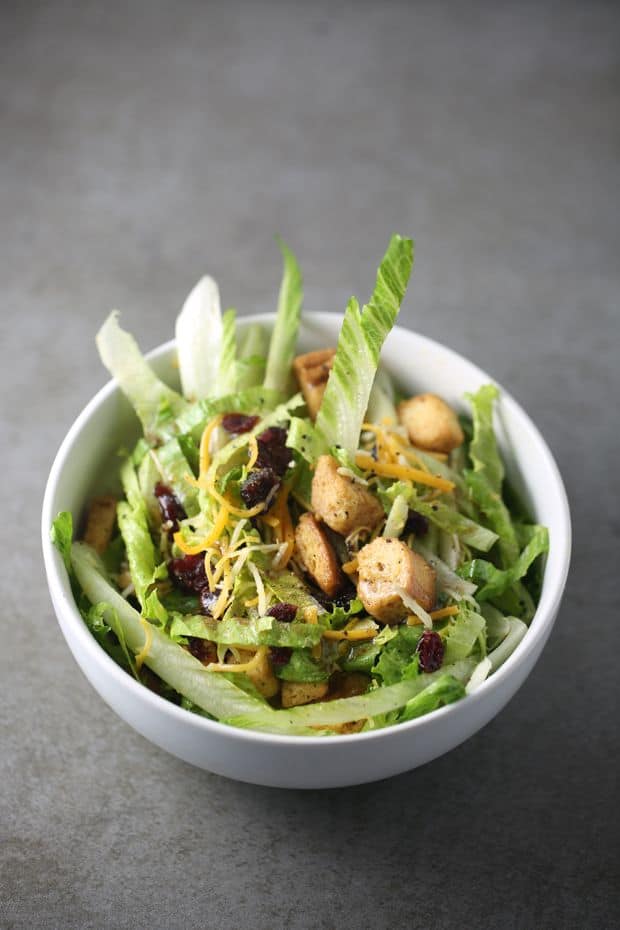 How many calories in baby romaine lettuce salad?
Yes, it contains only about 145 calories per serving. Depending on your calorie intake, you can eat entire lettuce yourself or split into two even servings as we do.
We also invite you to take a look at some of our other deliciously good salads that can be used for a variety of different occasions.
Healthy Multi-colored Carrot Salad
We are excited to work on more baby romaine salad ideas in the nearest future!
In the meantime feel free to grab this recipe and let us know how it came out down below in the comments section.
If you make this recipe, please snap a picture and hashtag it #FoodFlavorz – We would love to see your food photos on Facebook, Instagram or Twitter!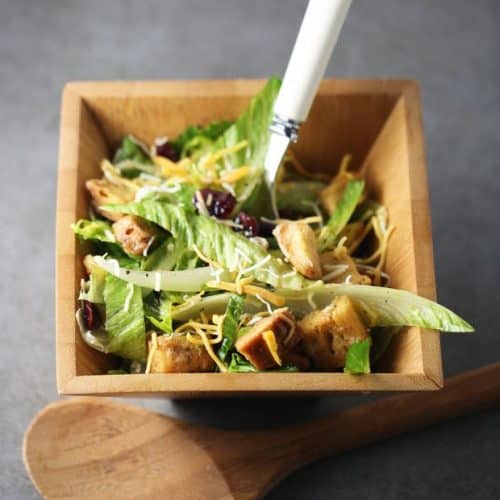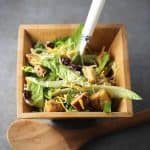 Baby Romaine Lettuce Salad
Simple and healthy baby romaine lettuce salad
Keyword:
Baby lettuce recipe, Baby lettuce salad, Baby Romaine, Baby Romaine Lettuce Salad, Lettuce Salad
Ingredients
1

head

Baby Romaine Lettuce

21

Grams

Dried Cranberries

22

Grams

Sharp Cheddar cheese

31

Grams

Croutons

Garlic flavor

30

ML

Olive oil

extra virgin

30

ML

Balsamic dressing vinegar

1/8 of a cup per serving
Instructions
Wash lettuce head thoroughly and cut into two even halves lengthwise. Cut each half into long strips.

Add cheese, cranberries, croutons.

Drizzle with extra virgin olive oil and balsamic dressing vinegar.

Season with salt and freshly ground black pepper. Mix well and enjoy.
Recipe Notes
Very easy to make and at the same time a healthy choice for any dinner or lunch. Eat right after you make it, taste best when crisp and crunchy. Don't let it sit in the fridge for too long as it will get soggy.
Want to serve one serving only, and save the other half for later? No problem.
Place the other lettuce half into a closed plastic bag and keep it in the fridge for later use.
Nutrition Facts
Baby Romaine Lettuce Salad
Amount Per Serving (1 Bowl)
Calories 290
Calories from Fat 189
% Daily Value*
Fat 21g32%
Cholesterol 12mg4%
Sodium 190mg8%
Potassium 29mg1%
Carbohydrates 19.5g7%
Protein 5.5g11%
Calcium 91mg9%
* Percent Daily Values are based on a 2000 calorie diet.
---