Watermelon Smoothie
August 8, 2016 - 2 Comments
A Watermelon smoothie garnished with mint and a dash of cinnamon on a hot summer day is a drink that I could not simply live without! So it all started with our kids wanted to drink some watermelon juice that they spotted during our shopping. We have decided to make our own watermelon drink. Our family was just leaving the supermarket and feeling really hot and thirsty. We were ready for a cold smoothie to keep us happy. As we were leaving the store we have noticed these beautiful watermelons at a discounted price, we couldn't resist and say no to our little kiddos demanding their watermelon juice lol.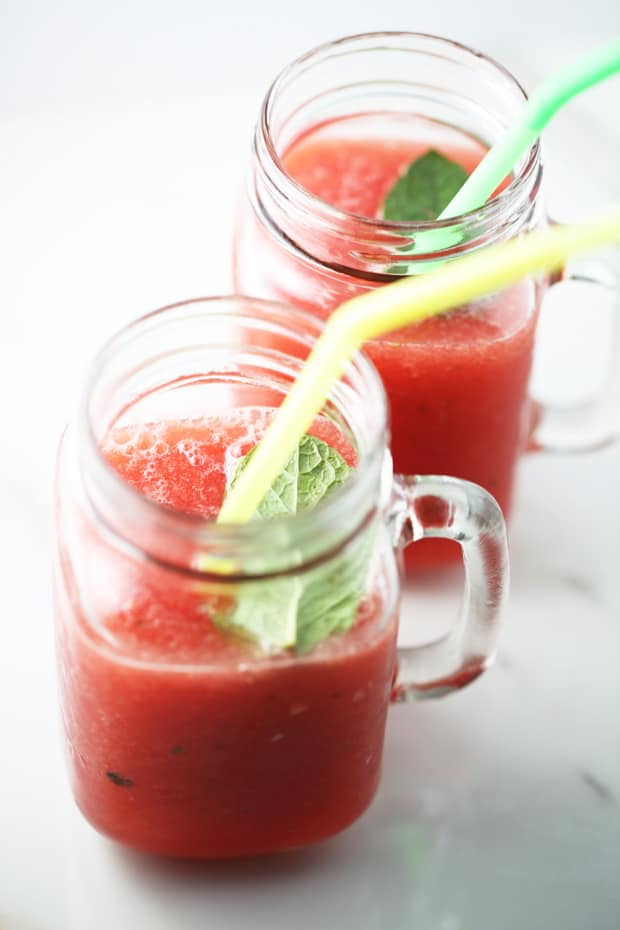 Driving home we were on a mission to make the best and most delicious watermelon smoothie recipe ever!
This delicious smoothie requires only three simple ingredients;
Fresh watermelon ( You can use frozen watermelon, but we recommend fresh.) We wanted to buy a seedless watermelon, but our store didn't have one, maybe next time. 🙂
Fresh mint leaves ( to add fantastic aroma and flavor and also help with digestion.)
Frozen ice ( to make it cold and keep you cool.)
Is watermelon smoothie good for you?
The answer is, yes. Staying hydrated during hot summer days is very important. Watermelon is high in water content, it contains vitamin A, C, and B. Mint can help you with a variety of different problems, for example, bad breath 🙂 or digestive issues.
You can call it a smoothie, slushy or whatever you want. Whatever you choose it will be just fine. Mint leaves from my garden were just waiting to be picked up fresh for this delicious watermelon smoothie!
Take a look at these delicious, and healthy mint leaves that are growing in my garden.
I have to tell you that it does not take long to prepare this delicious drink so if you are in a hurry and feel hot go for it. Get a fresh watermelon from your local produce market. Cut off two thick round slices. Cut it up into chunks. To take things even further you can always prepare more and put it into freezer baggies for later, or blend the watermelon with just a little bit of water and pour into the ice cube tray!
How to pick a watermelon?
Here are a few tips on how to pick a good watermelon;
Don't go for a shiny surface as this is an indication of underripe melon.
Go for dark yellow color and brown spots, as this indicates a sweeter taste.
The heavier the watermelon, the more water it contains.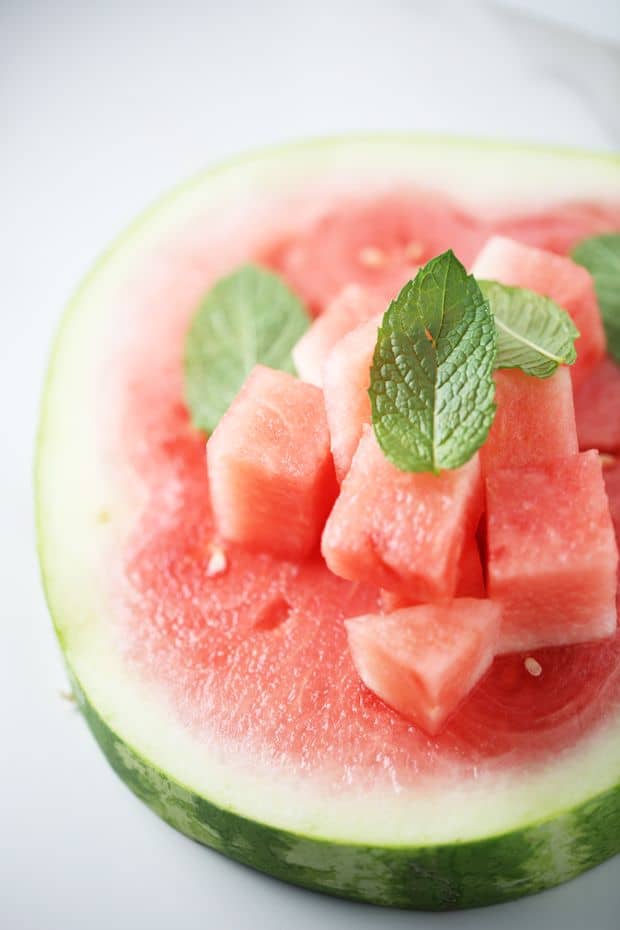 How to make a watermelon smoothie?
Here is how I do it. Toss watermelon and two mint leaves into a blender. Meanwhile, crush about two large cups of ice and combine with your watermelon. Sprinkle everything with a pinch of ground cinnamon. Put your favorite mixer to work, blend until smooth! It takes about 10 seconds I would say for just right consistency.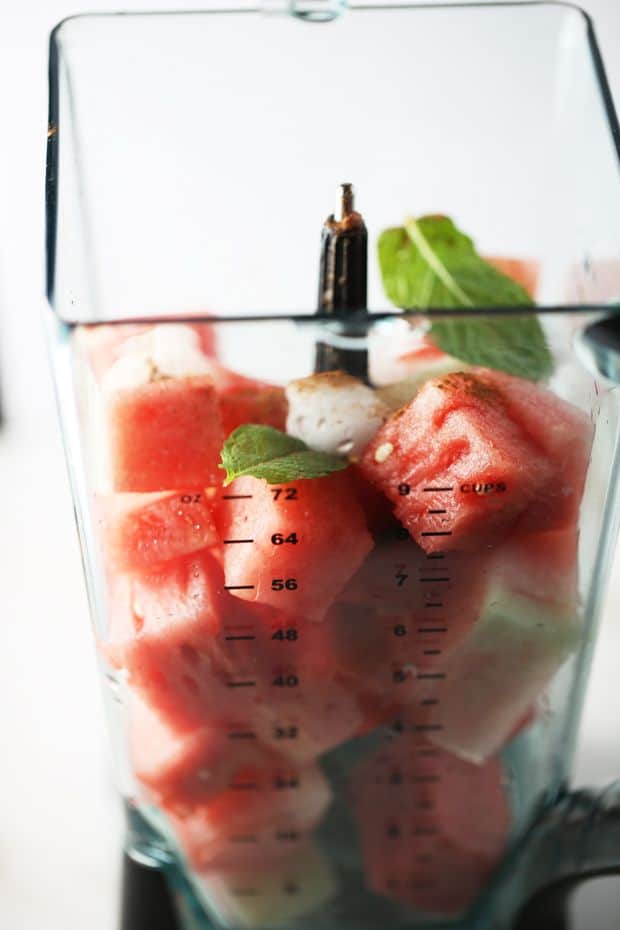 Smoothie is perfectly ready to be consumed. Take a look at this amazingly right looking consistency!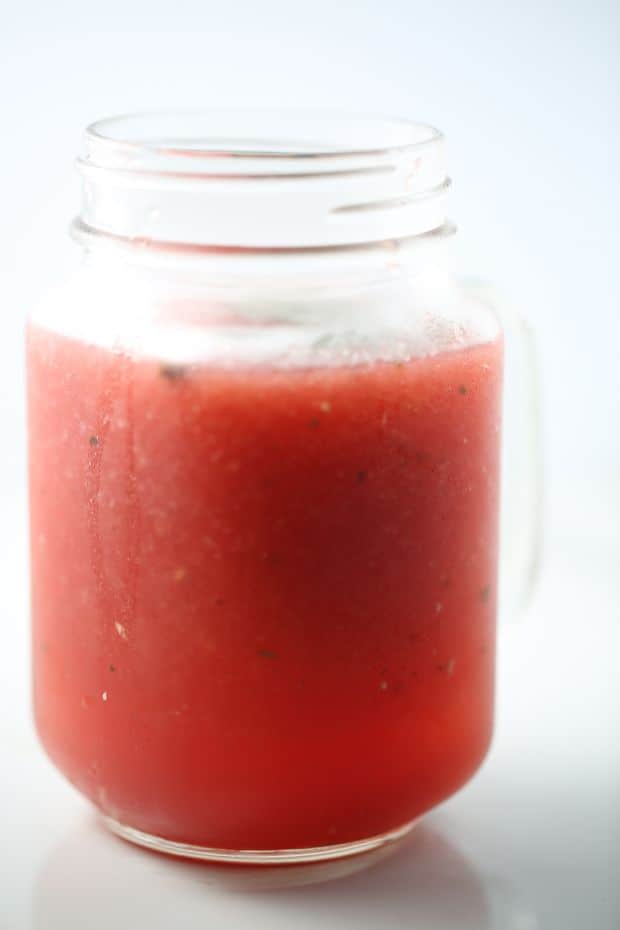 Drink up, and enjoy as this smoothie taste best when served cold.
I know this is not a green smoothie that you may be looking for but all we can say it tasted amazing. Go give it a try, and I promise you will be coming back to it.
Next on our to-do list is to try this smoothie with lime juice, coconut water, and healthy Chia seeds and perhaps even add some fresh or frozen strawberries.
If you like cucumber and mango feel free to try this tasty Cucumber Mango Smoothie.
Like always you are invited to share your opinion with us, so feel free to drop us a comment below.
If you make this recipe, please snap a picture and hashtag it #foodflavorz – We would love to see your food photos on Facebook, Instagram or Twitter!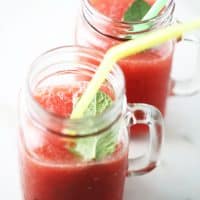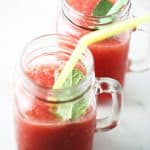 WATERMELON SMOOTHIE
A Watermelon smoothie garnished with mint and a dash of cinnamon. Perfect smoothie for a hot summer day!
Keyword:
Watermelon Smoothie
Ingredients
2

slices

Watermelon

4

Mint Leaves

1

pinch

Cinnamon

2

cups

Ice

Crushed
Instructions
Cut two thick watermelon slices about 2 inches each and divide into chunks or cubes

Crush two cups of ice

Combine watermelon cubes with crushed ice in your blender. Sprinkle with cinnamon for extra flavor.

Blend all for about 10 seconds. Serve while cold!

Nutrition Facts
WATERMELON SMOOTHIE
Amount Per Serving
Calories 172
Calories from Fat 8
% Daily Value*
Fat 0.9g1%
Sodium 24.9mg1%
Carbohydrates 43.4g14%
Protein 3.5g7%
Vitamin A 900IU18%
Vitamin C 63.5mg77%
Calcium 60mg6%
Iron 1.4mg8%
* Percent Daily Values are based on a 2000 calorie diet.
---